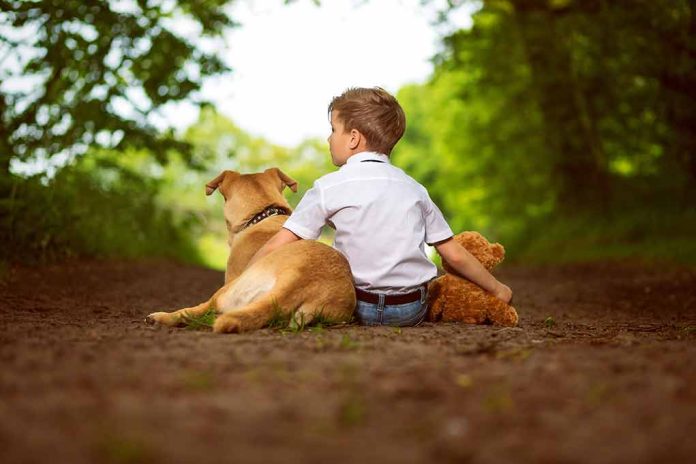 (StraightNews.org) – A toddler who went missing in Michigan was found hours later sleeping on one of her dogs. The 2-year-old girl wandered away from her home at around 8 pm with the family's two pets near Faithorn, Michigan. Thea Chase was playing with the dogs in the yard when her mom checked on her and found she had vanished.
A frantic search for the child ensued, involving drones deployed by Michigan State Police, canine teams, and local search and rescue crews. Residents from Faithorn and towns on both sides of the Michigan – Wisconsin border also participated. The child was found around midnight in a heavily wooded area approximately three miles from her home. She had taken a rest on the family's Rottweiler Buddy.
Lt. Mark Giannunzio of Michigan State Police said, "She laid down and used one of the dogs as a pillow, and the other dog laid right next to her and kept her safe. It's a really remarkable story."
The happy ending is reminiscent of a similar story in Michigan in May. On that occasion, an 8-year-old boy disappeared during a family camping trip in Michigan's Porcupine Mountains Wilderness State Park. Nante Niemi vanished at 1:30 pm on May 6 while gathering firewood. He was found two days later sheltered under a log.
While Michigan State Police searched for Nante, he sustained himself by eating snow and tried to signal to a helicopter overhead at one point, but the pilot failed to notice him. The search for Nante involved 150 search and rescue personnel and covered 40 square miles of Michigan's upper peninsula.
State police spokeswoman Michelle Robinson said she had no idea how the child survived the cold weather and harsh conditions, but search volunteer Eli Talsma noted that when he was found, "He was just normal. He was talking. He was asking questions. He said he wasn't hungry." Nevertheless, she added that he ate a Cliff bar and a banana and drank some water.
Copyright 2023, StraightNews.org