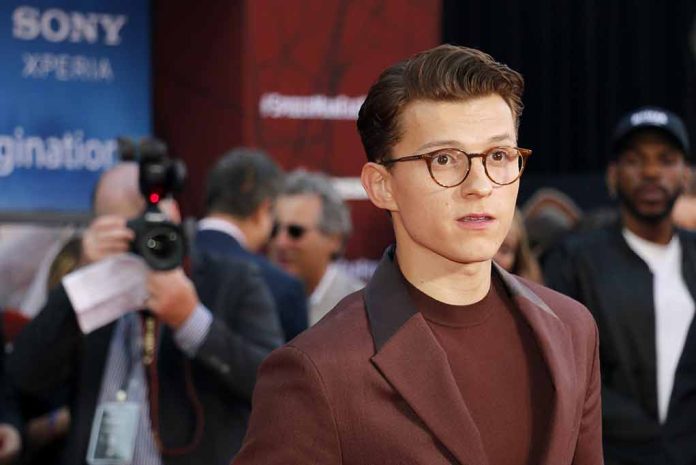 (StraightNews.org) — British actor Tom Holland says he is taking a break from the spotlight to focus on his mental health. The star said he suffered a "bit of a meltdown" on the set of his latest film and was having a tough time in general. He has recently filmed a thriller series, The Crowded Room, based on the "Campus Rapist" Billy Milligan, an Ohio-based criminal who raped several students in the 1970s and claimed to have 24 personalities. He was the first serious criminal found not guilty due to a dissociative personality disorder.
Holland said playing such a dark individual took a toll on him, so much so that when filming ended, he shaved his head to "get rid of the character." Furthermore, he carried the extra weight of being one of the series' producers.
"We were exploring certain emotions that I have definitely never experienced before. And then on top of that, being a producer, dealing with the day-to-day problems that come with any film set, just added that extra level of pressure," he said.
The Spiderman star has spoken out about his well-being before, and took a break from social media, saying it was detrimental to his mental health. He had a staggering 67 million followers on Instagram when he announced he was going to step away. The actor told fans he found Twitter and Instagram overwhelming and overstimulating and that reading negative things about himself greatly affected him.
Studies have shown that social media can be overstimulating and causes young people to struggle with self-esteem as they associate their value with how many 'likes' or 'retweets' they receive.
A survey in 2015 found that some teenagers can spend as much as nine hours a day on social media, and the longer the time spent, the greater the feelings of anxiety, low self-esteem, isolation, and depression. In 2020, another survey showed that around half of kids aged 10 to 18 become victims of online bullying.
Copyright 2023, StraightNews.org