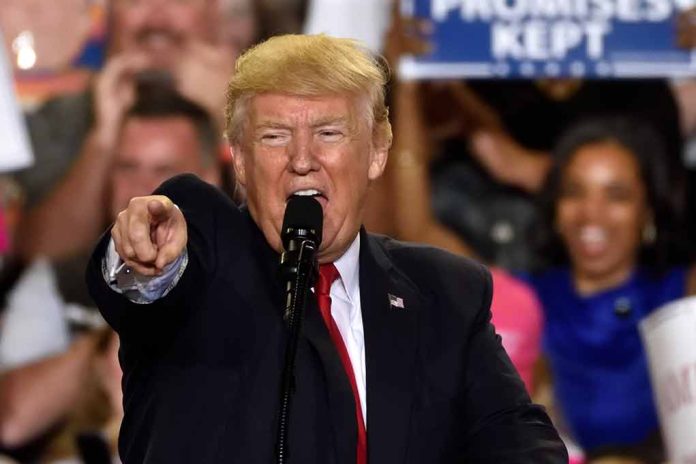 (StraightNews.org) – Donald Trump slapped down suggestions that the Titan submersible tragedy was brought to the front page of the newspapers to avoid coverage of Hunter Biden. Trump said he doesn't believe in such things, and isn't caught up in conspiracy theories, but reiterated his claim that the Biden administration is the most corrupt in the history of the United States.
The former President was speaking to Newsmax host Eric Bolling when the topic was raised. Bolling asked Trump if he found it suspicious that the search for the ill-fated submarine lasted for five days and occurred during the time that Hunter Biden made a deal with prosecutors that allowed him to avoid jail time. The media was fixated on the submarine, Bolling said, and ignored the Biden saga.
Trump replied, "The submarine is a separate issue. That's a horrible thing. That's a horrible way to go. But I can tell you that – with or without the submarine – it doesn't matter in terms of what's going on with our country."
The President's son Hunter Biden cut a deal with federal prosecutors that some legal experts described as "far from standard operating procedure." Biden agreed to plead guilty on counts of failing to pay income tax in 2017 and 2018. He also faced charges of illegally possessing a firearm but this was made subject to a pretrial diversion agreement – this agreement allows prosecutors to "divert certain offenders from traditional criminal justice processing into alternative systems of supervision and services."
Hunter Biden's finances, as well as his drug problems and other personal issues, were made public with the discovery of information contained on a laptop that he left at a computer repair store in Delaware. The computer contained images of Biden using drugs and cavorting with alleged prostitutes, as well as several emails related to his finances. Communications showed that Biden was earning millions through various sources, including a Ukrainian gas company, despite having no industry knowledge or experience.
Copyright 2023, StraightNews.org