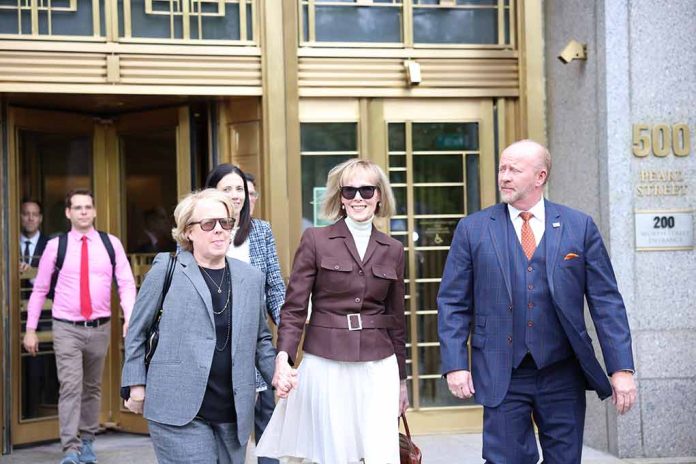 (StraightNews.org) – Donald Trump has filed a defamation suit against E. Jean Carroll for publicly accusing him of rape. Carroll took Trump to court in May and while he was found liable for abuse and defamation, he was not found liable for rape. However, the former President's lawyers say the author continues to accuse him of the crime in public, therefore she is now defaming him.
Trump fiercely denies Carroll's claim that he raped her in a New York department store in the 1990s. He has repeatedly said he does not know who she is and says the rape accusation was a "hoax" and a "con job." Carroll sued the former President and was awarded $5 million.
The newest case centers on an appearance E. Jean Carroll made on CNN the day after a New York jury found that Trump was not liable for rape. On the show, Carroll repeated her claim saying "Oh yes he did, oh yes he did," when asked about the jury's ruling that Trump had not committed that specific offense. Trump's counterclaim states Carroll made "these false statements with actual malice and ill will with an intent to significantly and spitefully harm and attack." It also states that Trump has suffered serious damage to his reputation as a result of her public declarations.
Following her award of $5 million in May, Donald Trump took part in a special town hall interview with Kaitlin Collins for CNN. Collins questioned the Republican on the jury's verdict and he replied, "I have no idea who she is, she's a whack job." Carroll said she was disgusted by his comments and her lawyers filed a new suit asking that the $5 million figure be increased to $10 million. Trump tried to stop this new claim being considered but in June, US District Judge Lewis Kaplan ruled in Carroll's favor.
The former President is suing Carroll for $10 million. Her lawyers say Trump is using delaying tactics.
Copyright 2023, StraightNews.org