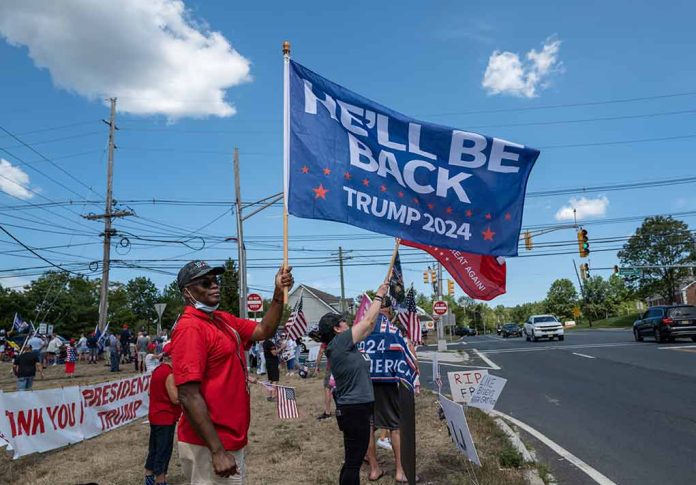 (StraightNews.org) – A few dozen Trump supporters showed up outside of the Fulton County Jail last Thursday to await Donald Trump's arrival, the Associated Press reported.
Trump surrendered to authorities in Atlanta Thursday evening on charges related to his attempts to overturn the results of the 2020 election.
Trump faces 13 charges in the 41-count indictment.
According to the Associated Press, security at the Fulton County Jail was tight in anticipation of Trump's arrival, with vehicle access limited in the area and barricades erected to prevent both Trump supporters and detractors alike from getting too close.
While Trump was booked and had his mug shot taken, he was quickly released on a $200,000 bond agreement. Arraignment is expected at a later date.
By the morning of August 25, all 19 defendants had turned themselves in at the Fulton County Sheriff's Office ahead of the noon deadline for voluntary surrender, CBS News reported.
In addition to Donald Trump, the last seven defendants surrendered Thursday night and Friday morning, according to records from the Fulton County jail.
While 18 of the 19 defendants reached bond agreements before booking, one co-defendant, former Black Voices for Trump director Harrison Floyd, was denied bond by a judge.
Trump's former personal attorney Rudy Giuliani surrendered to authorities last Wednesday. The former New York City Mayor also faces 13 charges in the case. He was released on a $150,000 bond.
While none of the defendants have been arraigned as yet, Giuliani told reporters as he was leaving for Atlanta that he planned to enter a not-guilty plea.
Meanwhile, three of the 19 defendants have filed motions to have their cases moved from state to federal court.
Former White House Chief of Staff Mark Meadows and former Justice Department official Jeffrey Clark both filed motions arguing that since the charges stem from their conduct while serving as federal officials, their cases should be heard in federal court.
The third defendant, former Georgia Republican Party Chair David Shafer similarly requested that his case be moved to federal court since the allegations against him stem from his role as a Republican elector acting under the authority of the Constitution and federal law.
Copyright 2023, StraightNews.org