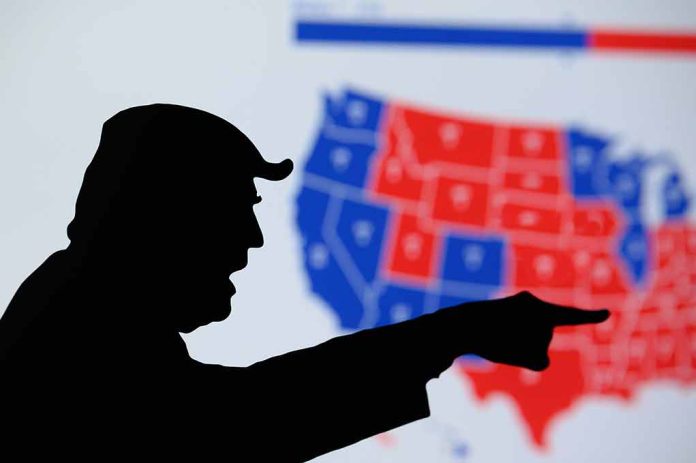 (StraightNews.org) – Donald Trump's popularity is soaring amid his numerous legal battles. Some commentators suggest that he has reshaped how people view politics and changed opinions on institutions such as the mainstream media, the federal government, and its agencies. The former President has been so successful at this that Americans will ignore his scandals and focus on the corruption Mr. Trump insists is endemic within the mainstream political system.
Gromer Jeffers Jr. of the Dallas Morning News says, "In the past, a candidate with such legal problems would be unelectable. But Trump has helped reshape political norms."
Surveys conducted by major polling organizations and media outlets all place Trump in front of other Republican hopefuls. Harvard-Harris sees Trump at 59%, far ahead of his nearest contender Ron DeSantis, who last polled 14%. Fox News, Reuters, USA Today, Economist/YouGov, and Quinnipiac, among others, show Trump trouncing DeSantis by double digits. All other candidates poll below 10%.
Furthermore, the money is flowing in. According to the Trump campaign, it raised more than $6 million in donations in the days following his arraignment at a Miami court, where he faced numerous criminal charges related to his handling of the classified documents found by the FBI during a raid on his Florida home last August.
Republican political consultant Matthew Langston explains the phenomenon. He said voters view the indictments of Trump as "a deep-state assault," which is a "phrase he's built from the beginning of his presidency and it's given him the ability to deflect what would ordinarily be strong negatives against practically any other candidate."
The former President's appearance in a Miami criminal court was the second in a few months. He was indicted by Manhattan District Attorney Alvin Bragg in March over hush money payments to an adult actress who claims she had an affair with Trump. He was furthermore found liable in a civil court for assaulting writer E. Jean Carroll. He insists he has no idea who Carroll is.
Copyright 2023, StraightNews.org