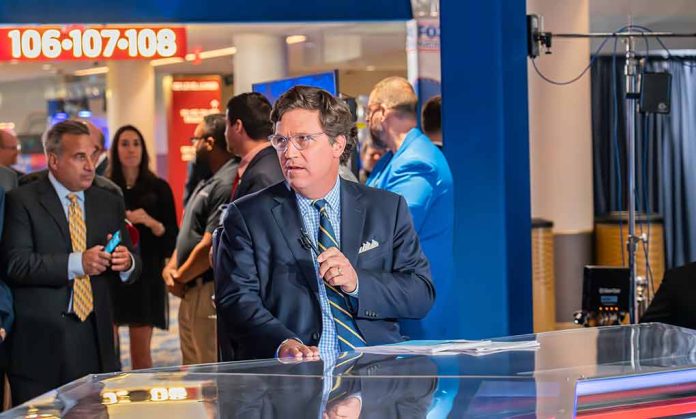 (StraightNews.org) – Tucker Carlson will host the first Republican Presidential forum of the 2024 election season. The event will be held in July at the Family Leadership Summit in Des Moines, Iowa. Blaze TV announced the occasion on its Twitter account and indicated that Carlson would be joined by Floridian Governor Ron DeSantis, Senator Tim Scott from South Carolina, the former Governor of South Carolina Nikki Haley, biotech entrepreneur Vivek Ramaswamy, and former Vice President Mike Pence.
Donald Trump, the Republican frontrunner, is not advertised as a speaker, and nor is he expected to attend the first formal Presidential debate in Wisconsin in August. Trump's team says no firm decision has been made, but the former President has previously indicated that he will not take part.
To participate in the August debate, candidates must meet the criteria set out by the Republican National Committee (RNC). To qualify, contenders must register at least 1% in national polls and in two of the four early voting states – Iowa, New Hampshire, South Carolina, and Nevada. Candidates who qualify so far include Ron DeSantis, Mike Pence, Nikki Haley, and Tim Scott.
The latest 2024 polls reveal a mixed result for the two parties' leading candidates. Trump remains the clear favorite for the Republican nomination, and general election surveys show him neck and neck with President Biden. A poll by The Economist, conducted between 8 and 11 July, places Trump at 49% for the Republican nomination and ahead of President Biden by 40% to 39%. Ron DeSantis remains in second place among GOP candidates at 20%.
A Morning Consult survey for the same time period puts Biden ahead of Trump by 43% to 42%, and ahead of DeSantis by 43% to 38%. A Citizens Awareness survey finds DeSantis ahead of Biden by 46% to 44% and Biden ahead of Trump by 47% to 43%.
All other Republican candidates are polling below 10%, with Mike Pence in third place and Nikki Haley in fourth.
Copyright 2023, StraightNews.org