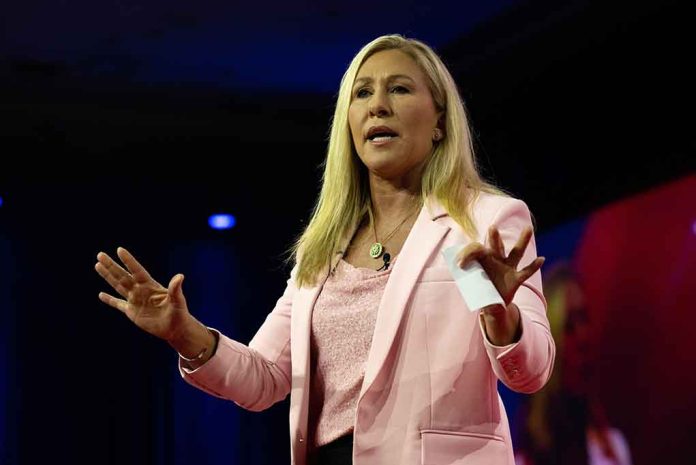 (StraightNews.org) — Controversial Georgia Rep. Marjorie Taylor Greene has had her congressional Twitter account restricted. The suspension, which was put in place for seven days, was in response to Greene's tweet highlighting a poster advertising a "Trans Day of Vengeance." The post referred to the deadly shooting at a school in Nashville, Tennessee, where three children and three staff members were murdered by a trans activist. The killing was followed by a call to other activists to enact a day of vengeance.
Taylor Greene said, "My Congressional account was suspended for 7 days for exposing Antifa, who are organizing a call for violence called Trans Day of Vengeance. The day after the mass murder of children by a trans shooter."
Twitter said it had performed a sweep of the platform and removed all references to the advertisement. The Day of Vengeance ad calls on activists to gather in Washington, DC, in April and assemble outside the Supreme Court. The rally is intended to protest against "trans genocide" according to the poster.
It is not the first time the firebrand Georgia Republican has been censured by Twitter. In early 2022, her personal account was banned for posting "misinformation" about the global pandemic. She had tweeted that the virus vaccine was causing unexpected death. That was the second time she had faced restrictions for tweeting about the same issue. Prior to that, she was suspended for supporting former President Donald Trump and his accusations that the 2020 Presidential election had been rigged.
Taylor Greene has made enemies both online and off and was removed from her committee posts by the Democrat-led House of Representatives in 2021. She was accused of supporting conspiracy theories, including the idea that school shootings are false flags organized by gun control advocates, and that 9/11 was not carried out by Islamist terrorists. She later distanced herself from the theories and said they did not represent her values. Senate Democratic Leader Mitch McConnell said she was a "cancer" in the Republican party.
Copyright 2023, StraightNews.org