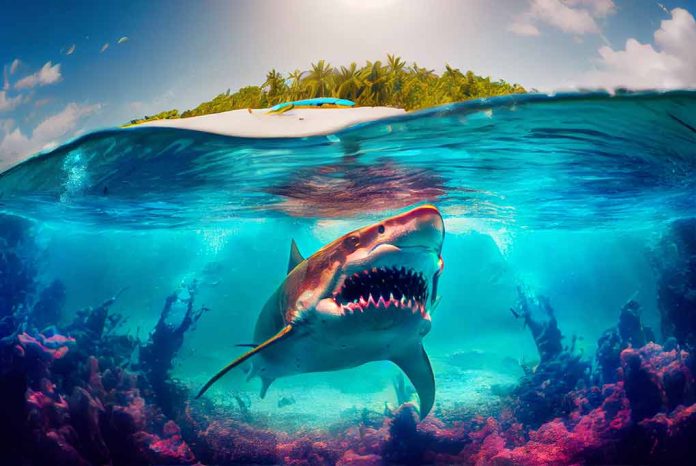 (StraightNews.org) – Sharks attacked two swimmers on the same beach in Florida over Labor Day weekend. One incident involved a 38-year-old woman who was waist-deep in the sea at Ponce Inlet, south of Daytona Beach, when a shark bit her right foot. Volusia County emergency services brought her to a nearby hospital, where her injuries were treated. Another shark injured a 30-year-old man on the same beach on the same weekend. The man's hand was hurt in this case, and he took himself to the local emergency room.
Volusia County Beach Safety Captain A.J. Miller said the area is a shark breeding ground and there is a nursery at the Ponce Inlet. He said the sharks were not deliberately harming people and distinguished between a shark bite and a shark attack. They mistake humans for fish or other sea creatures, he said, and if they do bite, they usually let go immediately.
The incidents were the fifth and sixth shark bite incidents on the beach this year. Last year, a total of seven were recorded.
In 2023, Florida is maintaining its global lead as the world's most fertile ground for shark attacks. Volusia has the highest level in the state, corresponding with its status as a breeding area for the fearsome creatures. Gavin Naylor of the International Shark Attack File says Ponce Inlet represents the "perfect storm" for sharks. He said the presence of surfers, and bait fish, combined with low visibility for humans, contribute to making the inlet a shark haven.
After years of decline, the number of attacks rose last year with 73 unprovoked incidents. Florida leads the way, followed by Australia, Hawaii, South Africa, and other US states including South Carolina, North Carolina, and California. There were ten fatalities in 2020, the highest number since 2013. Although three of those fatal attacks occurred in America, the odds of dying from an encounter with a shark in the US are 3,748,067 to 1.
Copyright 2023, StraightNews.org