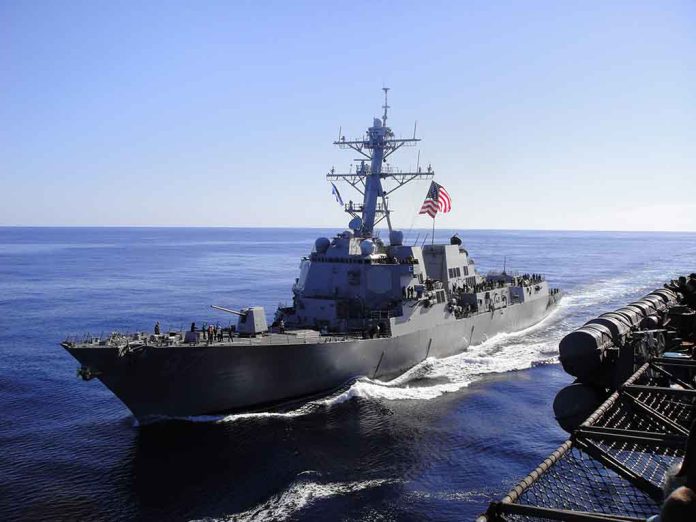 (StraightNews.org) — According to the U.S. Navy, they sailed a vessel near a fortified manmade island in the South China Sea to question the Chinese government's illegitimate claim to all the seas around the island. This was done to challenge China's illegal claim to all of the waters surrounding the island.
Chinese military just finished three days of targeted drills near Taiwan in reaction to last week's meeting with Republican Speaker of the House Kevin McCarthy and Taiwanese President Tsai Ing-wen, which prompted the latest move in the South China Sea. There was no connection, according to the Navy.
After conducting regular missions within twelve nautical miles of Mischief Reef, the Arleigh Burke-class guided-missile destroyer USS Milius departed the excessive claim area and resumed operations in the South China Sea, according to a statement released by the Navy's Seventh Fleet. The USS Milius is part of the United States Navy's Seventh Fleet.
Reports show the U.S. believes China has militarized Fiery Cross Reef, Subi Reef, and the maritime feature in the Spratly Islands in the last decade. Aerial photographs show radars, hangars, runways, and anti-air and ship abilities.
Beijing has drawn baselines surrounding archipelagos such as the Spratly and Paracel Islands to block international warships. Its navy and coast guard have hampered legitimate economic activity by other claims, such as Vietnam and the Philippines. Malaysia, Brunei, the Philippines, Vietnam, and Taiwan, claim the Spratly Islands.
According to a Britannica reference website, China claims its rights over the Spratlys go back hundreds of years. The Chinese government claims jurisdiction over the South China Sea, encompassing the Spratly Islands and adjacent reef and atoll systems.
The Philippines and Vietnam, in particular, have voiced significant opposition to these assertions.
In 1988, China's military forcefully evacuated the Vietnamese garrison at Johnson South Reef, marking the beginning of China's involvement in the Spratlys. China has been busy since the beginning of 2014, creating artificial land on several reefs and atolls.
China has signed and ratified the 1982 U.N. Convention on the Law of the Sea, but regional capitals, supported by Washington, say that the practice violates the convention. Beijing has repeatedly ignored a 2016 judgment by an international arbitrator that said Beijing's maritime claims were invalid.
Copyright 2023, StraightNews.org