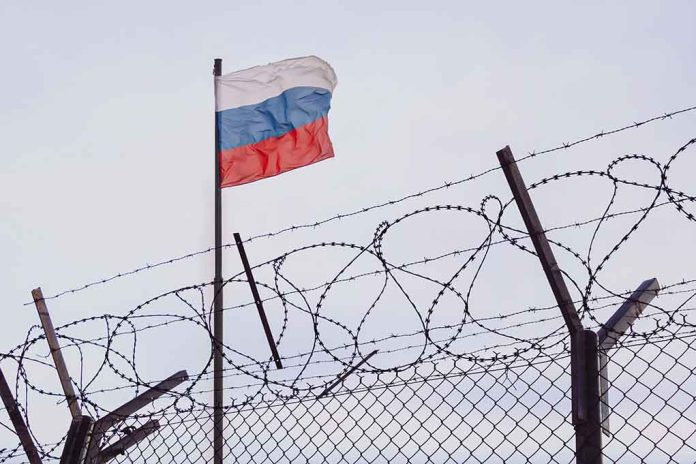 Ukrainian Woman Discusses Horrifying Details Inside Russian Prison
(StraightNews.org) – In May of this year, just three months after Russia invaded Ukraine, the aggressor took several Ukrainian soldiers hostage following their surrender at the Azovstal steel plant in Mariupol. After months of negotiation, the two sides agreed to a prisoner exchange, and Russia released 108 women on Monday, October 17. One woman who spent six months in captivity had harrowing stories to tell upon her liberation.
Surrender Was Necessary
Hanna O. is a service member with Ukraine's 36th Marine Brigade, and she was serving at the Azovstal steel plant when Russia began the process of trapping them inside. They bombed the structure and threatened to shoot the soldiers if they failed to surrender. Hanna said they had no choice, facing down the barrels of the opposition.
Women Were Treated Awfully
Once she was free, Hanna spoke about her treatment in Russia, saying it was a terrible ordeal for her and all the other women. Every day brought about new frights, the soldier revealed. Speaking with Ukrinform, she talked of the treatment, which included being "tortured with electric current, beaten with hammers, hung, and scalded with boiling water."
Hanna went on to talk about the food the Russians served to captives, saying it wasn't fit for a dog's consumption. The only thing that kept her from giving up amid the horrific conditions was her dream of returning home one day. Six months later, that day has come, and she is now a free woman.
Alona Koval, a Ukrainian citizen whose sister was also part of the 36th Brigade, shared her tale. Maryna Golinko, a first lieutenant and medic, was also held captive, and Koval feared for her sister's life. Upon being freed, Golinko shared stories similar to Hanna's.
Soldiers Not the Only Ones Tortured
While Hanna's story shines a light on what happens in captivity, the reality is allegations have followed Russian soldiers throughout the war. There have been numerous claims of the opposition not only torturing civilians — war crimes the United Nations investigated and found to be true — but also committing atrocity after atrocity. There are tales of citizens shot execution-style and then dropped in ditches, soldiers raping women, and even kidnapping children to raise as Russians.
This recent prisoner swap is one of several that have taken place throughout the war. The battle is still raging on more than eight months after the initial invasion, and it's not looking like there will be a ceasefire anytime soon.
Copyright 2022, StraightNews.org