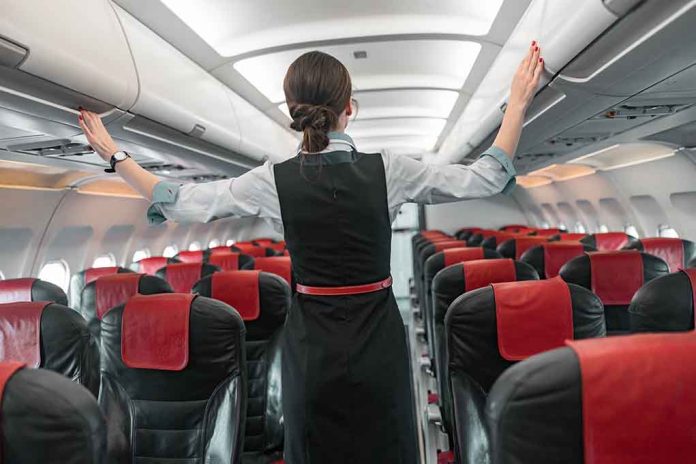 Flight Attendant Goes to Hospital After Incident With Unruly Customer
(StraightNews.org) – Putting a lot of people into a small space often ends up with a few disagreements, but most can be worked out civilly. However, when such incidents take place at 40,000 feet, it's often up to flight attendants to help resolve the incident. But, when one passenger became unruly on a recent flight to Chicago, an airline employee ended up in the hospital.
On Sunday, November 13, during United Airlines flight 476 from San Francisco, California, to Chicago, Illinois, a passenger became upset and got into a disagreement with the staff while holding her child in her arms. One video on TikTok shows the woman yelling expletives at the flight attendant, threatening to kill her, and hitting her.
Another passenger caught the beginning of the incident on video:
Flight attendant assaulted on @united flight 476 that just landed in Chicago at @fly2ohare. pic.twitter.com/4ksmKl5PAC

— Peter Kondelis (@PeterKondelis) November 13, 2022
In the footage, the unruly passenger is yelling "where is it" as she moves towards a flight attendant who repeatedly asked "Sarah" the passenger to "step back." When the plane arrived at its gate around 6 a.m., police were waiting to take the woman into custody.
Emergency responders took three people, including one flight attendant, to a nearby hospital for observation. United Airlines, local police, and the FBI are all investigating the incident. In a statement made to the New York Post, United Airlines emphasized it was "grateful to [its] crew for handling this difficult situation with professionalism."
Copyright 2022, StraightNews.org