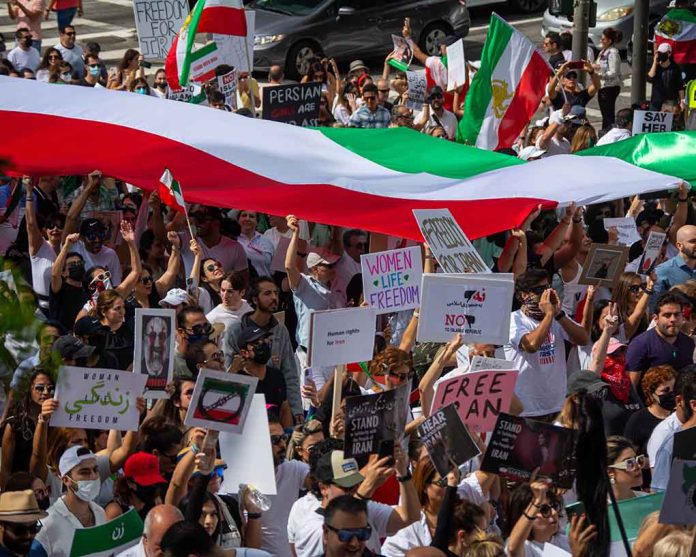 (StraightNews.org) — The Biden administration has announced new sanctions on the Islamic Republic of Iran following human rights abuses committed by the regime since protests erupted there in September last year. It is the ninth round of such sanctions related to protests that started when a 22-year-old died in police custody following her arrest for breaking the country's laws on women wearing headscarves in public. Mahsa Amini died in September and subsequent public disgust has grown into demands for an end to the Islamic regime.
Brian Nelson, Under Secretary of the Treasury for Terrorism and Financial Intelligence said, "The United States remains committed to supporting the Iranian people in their demands for human rights and other fundamental freedoms."
Iran, one of the most aggressive of the world's Islamic states, has been using deadly force against protestors. Hundreds of people have been killed and more than 18,000 arrested – some of these have been executed. The country applies sharia law, which means that life, particularly for women, is tightly controlled. Punishments include public amputations and death by stoning. Any criticism of Islam carries the death penalty. Iran has been governed by sharia since the Islamic Revolution of 1979 and the current protests are the longest-running since that time.
The new sanctions by the United States coincide with similar punitive restrictions imposed by the United Kingdom and the European Union. These include asset freezes and travel bans.
The EU has already imposed a variety of restrictive measures on individuals and organizations in the Islamic State. Individuals include representatives of government, political and media figures, and high-ranking members of the Islamic Revolutionary Guard Corps (IRGC). Founded in 1979 by Ayatollah Khomeini, the IRGC is the regime's brutal enforcement arm. It has been labeled a terrorist organization by the United States, but the European Union, as yet, has refused to do the same for fear it will further alienate Iran and dismantle talks on its nuclear program.
Copyright 2023, StraightNews.org