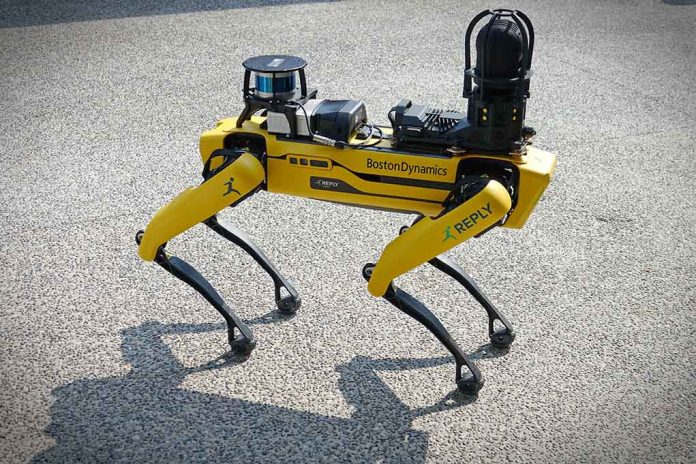 US Government Deploys ROBOT DOGS – They're Here
(StraightNews.org) – Advances in armor, missile detection, and communication have all led to fewer military injuries and deaths in recent decades. Some companies hope they can still further reduce these numbers. One innovative way under consideration is replacing soldiers with robots that can complete certain tasks, saving both man hours and potential lives.
In July, the US Space Force tested two of Ghost Robotics' Vision 60 quadruped unmanned ground vehicles (Q-UGVs), which patrolled the Cape Canaveral Space Force Station. The demo was a success in showing that the doglike drones could perform repetitive tasks in and around the base with ease.
Ghost Robotics has tested its invention for use "in a broad range of unstructured urban and natural environments for defense, homeland and enterprise applications." The company hopes to get these robot dogs onto the frontlines eventually.
Coming to a launch pad near you. https://t.co/lJ87NDM8oP

— Futurism (@futurism) August 8, 2022
The Air Force, which oversees the Space Force, first began testing these dogs, which can be fully robotic or operated by remote control, in 2020. The military branch confirmed it wants to integrate them more. At one point, the military mounted a sniper rifle, which can successfully hit a target 3,940 feet away, on one of these $150,000 robots.
Do you think there are other applications where these robot dogs could help, or is this too much artificial intelligence stepping into a role best done by humans? Reply to your email or send a message to today(at)straightnews.org to let us know what you think!
Copyright 2022, StraightNews.org