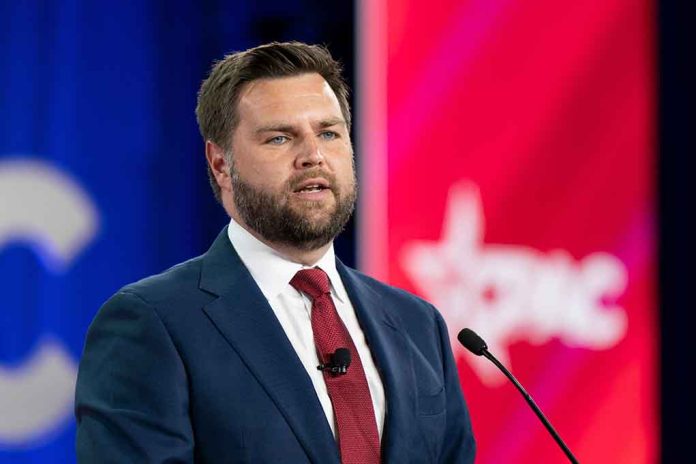 (StraightNews.org) — Sen. JD Vance (R-OH) said rail companies must pay the total clean-up costs following train derailments. The Senator has introduced legislation to hold the railroad industry to account following a recent spate of incidents. He called on Republicans to support the Railway Safety Bill he introduced in March.
"If you, the railroad, have to pay every single cent when your train crashes and you basically set off chemical bombs in the middle of one my constituents' hometowns, if you had to pay for that, you would respond to the public safety concerns much differently," he said.
There have been numerous incidents involving train derailments across the country in recent months – some of these involved cars carrying potentially toxic chemicals. In February, a Norfolk Southern train derailed outside East Palestine, Ohio, bringing the issue to national prominence.
Recent studies reveal that the outcome for East Palestine could be worse than anticipated. Data shows that soil near the town contains dioxide levels hundreds of times higher than the safe threshold. Scientists say such levels dramatically increase the risk of cancer. In addition, tens of thousands of fish and marine creatures have died.
Norfolk Southern operated the train involved in the Ohio accident and has paid $20 million in compensation. However, lobby groups connected with the company are working hard to sink Senator Vance's proposals. They argue the legislation will create more bureaucracy and cost while doing little to increase railway safety. A letter co-written by a group of industry executives states that Vance's reforms "would do little to improve safety while creating gross inefficiencies for thousands of businesses."
The letter also claimed that US rail is "safe overall." Statistics show, however, that trains are several times more likely to derail in America than in Europe.
Groups campaigning against the Railway Safety Bill include the National Taxpayers Union, Consumer Action for a Strong Economy, and Conservative Coalition for Climate Solutions.
Political Action Committees connected to Norfolk Southern have reportedly donated millions of dollars to Democrats and Republicans on Capitol Hill.
Copyright 2023, StraightNews.org