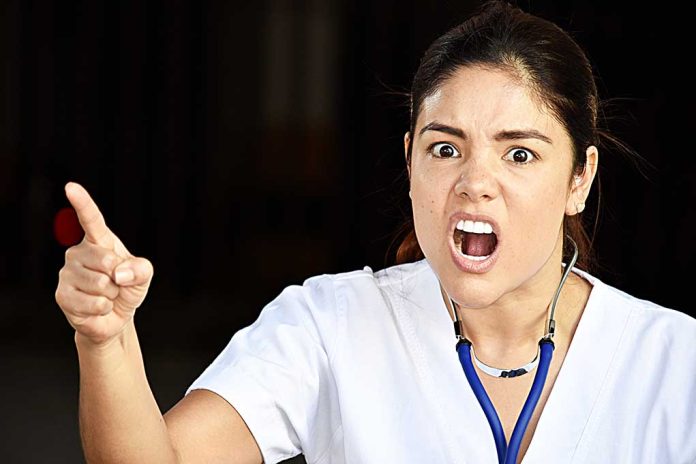 (StraightNews.org) – A physician who warned about a potential killer nurse in the UK was reprimanded and ordered to apologize to her. The case of Lucy Letby shocked the United Kingdom as the truth of her conduct was revealed in a recent trial – she had murdered several children under her care.
Letby was employed at the Countess of Chester Hospital in England between June 2015 and June 2016, and during that short time, killed seven young babies, and attempted to kill six more. Most of the children were born prematurely and were subsequently assigned to special care units in the hospital. The nurse denied wrongdoing, but a jury found her guilty on all counts on August 18.
It has since emerged that Dr. John Gibbs, who worked alongside Letby, spoke to hospital management and highlighted the strange number of deaths connected to the 33-year-old specialist nurse. Chief executive Tony Chambers then called Dr. Gibbs and six fellow pediatricians to a meeting and warned them to drop the matter and write a letter of apology to the nurse. Gibbs said the experience was intimidating, and his colleague Dr. Stephen Brearey agreed. Brearey told British reporters he was warned there would be "consequences" if the doctors did not apologize for raising their concerns.
Lucy Letby qualified as a nurse in 2011 and worked in several hospitals. In September 2016, while employed at the Countess of Chester, colleagues noted an unusually high number of fatalities among very young and vulnerable babies, and pointed the finger of suspicion at Letby because she was present at the time of each death. Evidence mounted and she was arrested in 2018 before a long and complex legal investigation eventually concluded with a guilty verdict from a jury in Manchester.
The court heard that Letby murdered the children by injecting air or insulin into their veins or in some cases, force-feeding them, causing them irreparable harm. Prosecuting attorneys said she enjoyed the thrill of "playing God."
Copyright 2023, StraightNews.org