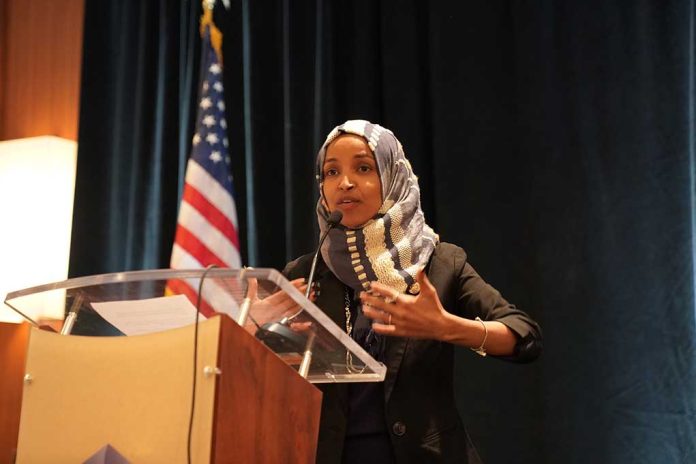 (StraightNews.org) — The White House has come to the defense of Rep. Ilhan Omar (D-MN) following comments by House Speaker Kevin McCarthy that she may be barred from taking her seat on the House Foreign Affairs committee. Omar was placed on the committee by former Speaker Nancy Pelosi, but Speaker McCarthy has said he will hold a vote on whether she should be removed as a result of her past comments on Israel.
In 2021, a group of Jewish Democratic House members released a statement condemning a tweet published by Rep. Omar that compared the United States and Israel with the terror group Hamas. She wrote, "We have seen unthinkable atrocities committed by the U.S., Hamas, Israel, Afghanistan, and the Taliban." The Jewish group said her words were ignorant and offensive.
At a press conference on January 24th, White House press secretary Karine Jean-Pierre rejected the criticisms of Omar and said she brings a lot of expertise to the Foreign Affairs Committee. She was responding to the announcement by Speaker McCarthy that he is to ban Reps. Eric Swalwell (D-CA) ad Adam Schiff (D-CA) from the House Intelligence Committee for national security reasons. Swalwell has been associated with a Chinese spy and McCarthy accused Schiff of lying about President Trump's links to Russia.
Speaker McCarthy however is facing opposition to the move from within his own party. Republican Indiana Rep. Victoria Spartz has signaled that she will oppose efforts to oust Minnesota's Omar. "Speaker Pelosi took unprecedented actions last Congress to remove Reps. Greene and Gosar from their committees without proper due process. Speaker McCarthy is taking unprecedented actions this Congress to deny some committee assignments to the Minority without proper due process again. I will not support this charade," Spartz said.
McCarthy has the power to remove Schiff and Swallwell but will need to win a vote in the House to prevent Omar from taking her committee seat.
Copyright 2023, StraightNews.org