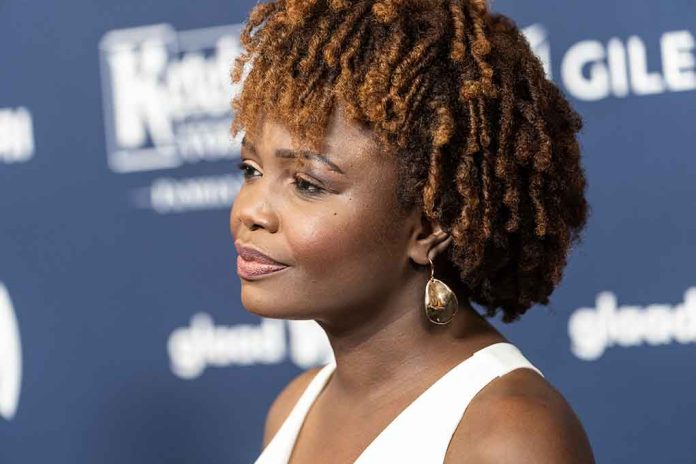 (StraightNews.org) — White House Press Secretary Karine Jean-Pierre mocked the Democratic Presidential hopeful Marianne Williamson at a press conference on March 5th. Jean-Pierre was asked by a reporter whether the President had hoped for an unopposed run at the Democratic nomination and how the administration felt about Williamson's campaign, she said, "I'm not tracking that. I mean, if I had a – what is it called? A little globe here – a crystal ball, then I could tell you. A magic eight-ball or whatever. If I could feel her aura." Her remarks prompted laughter from assembled journalists.
Williamson is the first and only candidate to put herself forward from the Democratic side of the aisle. She launched her campaign in Washington, DC, in early March and said she intends to "disrupt the system." The 70-year-old, who was a spiritual advisor to Oprah Winfrey and has written best-selling books, said she is not naïve about her chances, though she maintains an optimistic outlook. "The system that is now saying I'm unserious, that I'm not credible or I'm a longshot is the very system that protects and maintains this idea that only those whose careers have been entrenched within the system that drove us into a ditch should possibly be qualified to lead us out of that ditch," she said.
It is the second time Williamson has thrown her hat into the ring. She ran in 2020 but took an early exit due to a lack of support. She sits on the firm left of politics and has called for free healthcare, free childcare, free college education, and an end to the free market "mindset" of the United States. She supports strict gun control as well as reparations for the descendants of slaves. The successful author is also a staunch advocate for environmental causes and an increased minimum wage.
Williamson was born in Houston, Texas, but now lives in Beverly Hills, California. She has founded charities there to provide food for people with HIV/AIDS.
Copyright 2023, StraightNews.org