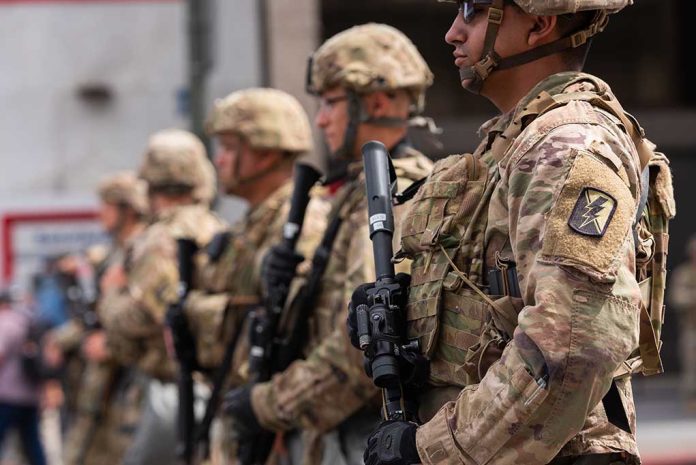 (StraightNews.org) — The Biden administration will send 1,500 US troops to the southern border as a migrant influx is expected when Title 42 expires. The Trump-era legislation allows officials to expel immigrants on public health grounds without hearing asylum claims. It is due to expire in mid-May. The troops will be deployed to the border for 90 days and will perform administrative duties to free up Border Patrol agents and allow them to deal with the anticipated crisis.
The Trump administration invoked Title 42 as part of the nation's coronavirus response. The law gives authorities broad discretion to take action to protect US citizens from infectious diseases. Before 2020, it was last used in 1929 to prevent ships from the Philippines and China docking in US ports during a meningitis outbreak. However, the Biden administration has continued to use the legislation to keep numbers down at the southern border.
President Biden has been clear that he wants Title 42 to end, and it was due to expire last year. However, a Supreme Court ruling in December kept it in place, and there are likely to be further challenges to prevent its expiration in May.
Its opponents argue that the law is inhumane and erodes the internationally recognized right of migrants to claim asylum in safe countries. The law's proponents, however, say the crisis at the southern border will rapidly worsen if the legislation is no longer in effect.
The Biden administration laid out its plans in preparation for the expiry at a press briefing in April. The government said it intends to open migrant processing centers in Latin America and provide more accessible routes to enter the US legally. The first two such centers will open in Colombia and Guatemala. Applicants will be interviewed at these facilities, and officials will determine whether an appropriate path to America is available to each interviewee. "US criteria for refugee resettlement will not change," the government said.
Copyright 2023, StraightNews.org