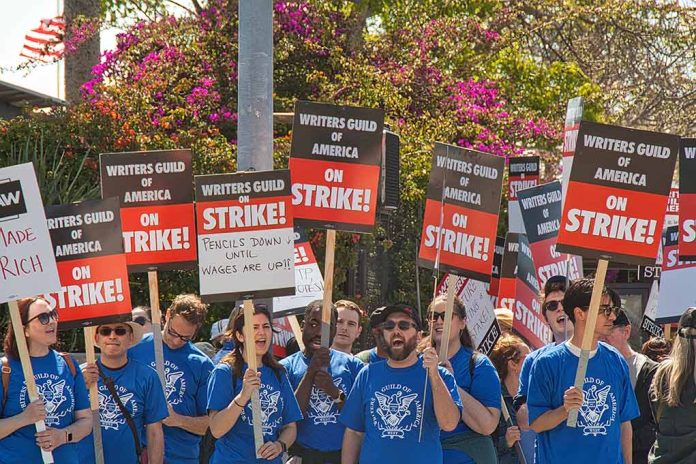 (StraightNews.org) — Democratic Presidential candidate Marianne Williamson has given her backing to striking Hollywood writers. The left-wing candidate said the strike is an "embodiment of what's happening in industry after industry." She added that workers are standing up to greed in a variety of fields and public support for unions is a "very good thing."
Writers in Hollywood walked out on strike on May 1st, having failed to reach an agreement with studios about compensation in the age of streaming. The emergence of online streaming has reduced the number of episodes in most series, meaning writers are paid less. A similar disagreement erupted in 2017, but a strike was averted on that occasion.
The Writers Guild of America, which represents more than 11,000 workers, began picketing outside major studios on May 2nd. The strikers have also received the backing of Independent Senator Bernie Sanders. On his Twitter account, Sanders said that Hollywood CEOs make hundreds of millions of dollars while writers have had their pay reduced.
At a press conference at the White House, Press Secretary Karine Jean-Pierre said she would not comment on ongoing industrial action but said President Biden is a strong supporter of workers' rights in general.
The last time writers went on strike in Hollywood was in 2007. The dispute at that time also related to pay and the impact of streaming services. Writers receive a residual payment when their material is repeated on TV or DVD, but streaming made these payments difficult to quantify. After downing tools for three months, new contracts were agreed upon that ensured writers received compensation when their movies or TV shows were distributed over the Internet.
The current strike is supported by 98% of the members of the Writers Guild and was called when negotiations with entertainment giants including Netflix, Apple, Disney, and Amazon broke down without agreement. The guild said the companies have created a gig economy, and they cannot make ends meet.
Copyright 2023, StraightNews.org