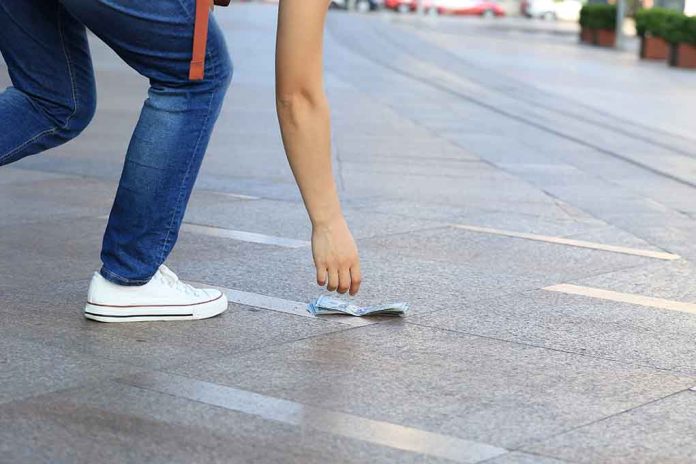 Woman Hospitalized After Accidental Drug Overdose — From a Dollar Bill
(StraightNews.org) – Most people get excited when they spot money on the ground and are able to snag it. However, for one lady traveling from Lexington, Kentucky to Dallas, Texas, picking up a dollar bill turned into a nightmare when she ended up in the hospital minutes later.
On Sunday, July 10, Renee Parsons was walking outside a McDonald's off of Highway 70 in Tennessee when she spotted a dollar on the ground and picked it up. She quickly began to feel faint and she started to slur her words. As she struggled to breathe, her husband rushed her to the hospital where doctors treated her. After four to five hours, she woke up and doctors told her they believe she experienced an accidental drug overdose.
During the ride to the hospital, Parsons touched her husband's arm, which began to tingle soon as a rash also broke out on his appendage. His strange reaction only lasted an hour.
Renee Parsons and her husband, Justin, were traveling from Lexington to Dallas, Texas for work when she said she picked up a dollar bill outside of a McDonalds in Nashville. https://t.co/REL3XdAR9v

— Chad Hedrick (@ChadHedrickWKYT) July 11, 2022
Some medical experts say it's nearly impossible to overdose from simply touching a bill that could have been used to cut drugs, even an extremely powerful one like fentanyl. Metro Nashville police told WKRN that they did not observe any drugs on the bill before they disposed of it. However, according to WKYT News, the Perry County Sheriff's Office in Tennessee has had two recent cases where people found dollar bills contaminated with methamphetamine and fentanyl remnants. Sadly, the Parsons will never know exactly what caused their terrifying medical reactions.
Copyright 2022, StraightNews.org