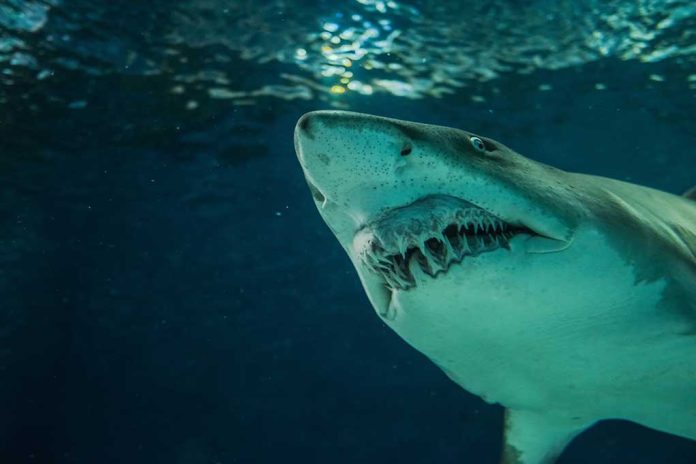 (StraightNews.org) – Rockaway Beach in New York was recently closed to swimmers following a shark attack that left a woman with severe injuries. The shark bit a 50-year-old woman on August 8 as she surfed, taking a chunk out of her left leg. She was rushed to nearby Jamaica Hospital while New York Police Department (NYPD) deployed drones and other equipment to monitor the waters. The woman reportedly lost about 20 pounds of flesh in the horrifying incident but is said to be stable and out of danger.
"Though this was a frightening event, we want to remind New Yorkers that shark attacks in Rockaway are extremely rare. We remain vigilant in monitoring the beach and always clear the water when a shark is spotted," NYPD officers said. Other beaches around New York were also closed as a second possible shark sighting was reported near Long Island.
While officials reassure residents that such attacks are rare, they do appear to be increasing, and the last instances were as recently as July. On the July 4 weekend, there were four attacks around the beaches of New York.
On Long Island, two teenagers were injured in separate incidents. A 15-year-old boy was surfing when a bite left him with puncture injuries to one of his feet, while a 15-year-old girl suffered similar wounds just a few miles away on the same day. There were further attacks on two men in the same region during the July 4 holiday.
Shark attacks are on an upward trajectory worldwide and Florida is a global epicenter. The Sunshine State leads the world in terms of non-fatal and fatal incidents. In 2021, there were 28 attacks in Florida, followed by six in Hawaii, four in South Carolina, two in Georgia, and one in Maryland. Since the 1800s, Florida has been home to the world's largest number of shark attacks, followed by South Africa and Australia. The top ten hot spots include California, South Carolina, and Hawaii.
Copyright 2023, StraightNews.org