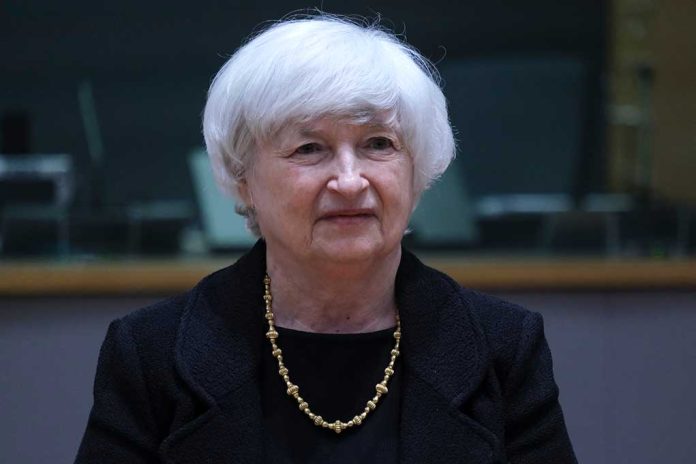 (StraightNews.org) — Treasury Secretary Janet Yellen has issued a stern warning that a US default will cause international panic and plunge America into recession. She said there is a real risk that American jobs and businesses will be destroyed and critical federal government operations would grind to a halt. These include air traffic, law enforcement, and communications.
"It is very conceivable that we'd see a number of financial markets break — with worldwide panic triggering margin calls, runs and fire sales," she said. The Secretary has set a deadline of June 1st for the current stand-off to end, or the catastrophic consequences will become a reality.
The Biden administration wants to raise the debt ceiling – the amount the government can borrow – but needs Republican support in Congress. Republicans say they will only support the move if the White House commits to spending cuts. President Biden has refused to concede to GOP demands.
In a boost for the Republican position, a poll of voters found that 59% of Americans agree with the GOP. Convention of States Action, together with the Trafalgar Group, conducted the poll, which showed that 22% are opposed to raising the ceiling under any circumstances, while 37% say it should only be increased if spending cuts are included.
Along party lines, the poll revealed that 71% of Democrats and only 9% of Republicans support raising the ceiling without spending cuts.
A bill was passed by Republicans in the House of Representatives in April setting out GOP terms. The bill requires spending cuts of 9%, saving around $3.2 trillion. It proposes scrapping the government's planned student debt relief program. Republicans say the plan to relieve the debt for some students is unfair to those who did not go to college or have already paid their debts. The nonpartisan Congressional Budget Office said this would save $460 billion. The bill will also revoke budget increases for the IRS and scrap green tax incentives.
Copyright 2023, StraightNews.org