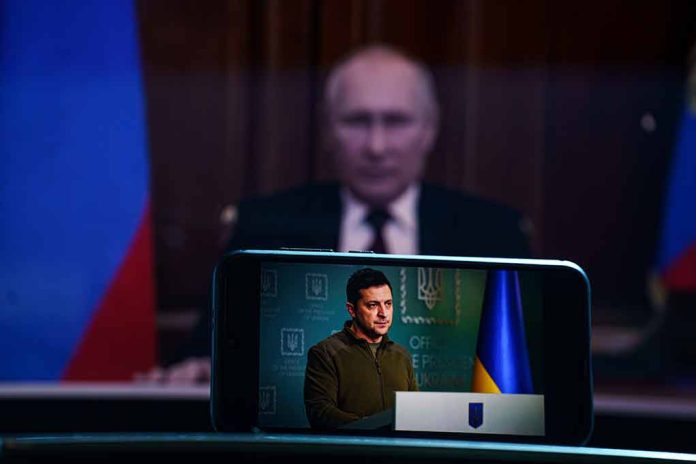 (StraightNews.org) – Ukrainian President Volodymyr Zelensky said Russian leader Vladimir Putin will launch a third world war unless the United States provides more assistance. Zelensky compared Putin to Adolf Hitler, the Nazi leader whose invasion of Poland sparked World War II.
"The whole world has to decide whether we want to stop Putin or whether we want to start the beginning of a world war," he said.
His comparison to Hitler continued as he argued that if Russia's invasion of Ukraine is successful and the Kremlin gains control of his nation, Putin will continue to conquer other Eastern European countries, just as the Nazi Fuhrer had done. He added that Vladimir Putin has not been human for a long time.
While the Ukrainian President thanked the United States for its support, he said he needed more funds but could not provide an estimate or a figure. Last month, the Biden administration asked Congress for an additional $24 billion, but there are concerns that scepticism is growing on Capitol Hill.
Parts of the Republican Party have long expressed trepidation about the amount of funds funnelled to Ukraine, but according to some GOP members, unease is growing. Michigan Rep. Lisa McClain said, "It's not just the Freedom Caucus; I think there's a lot of people that are concerned with funding." She added that Congress should focus more on domestic issues, including the tragedy in Hawaii, and keeping the federal government operational.
Rep. Andy Biggs from Arizona has stated that he will not support any further backing for Ukraine and described proponents of continued funding as "war hawks."
The package for Ukraine is included in a bill intended to fund the government in Washington, DC, as appropriations bills are worked out.
House Speaker Kevin McCarthy, who has previously argued against a "blank check" for Ukraine, said he would back more funding in a separate bill, but only if more resources are available to secure the US southern border.
Copyright 2023, StraightNews.org