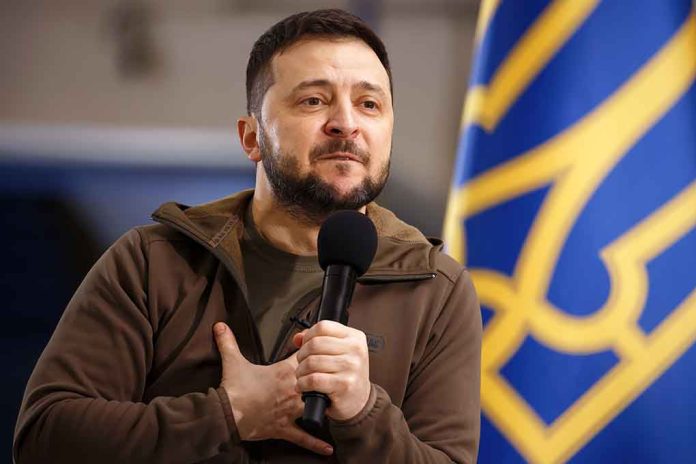 (StraightNews.org) — Ukraine President Volodymyr Zelensky addressed a joint meeting of both Houses of Congress on December 21st and said American funding of the war effort is "Not charity. It is an investment in the global security and democracy that we handle in the most responsible way."
His plea comes at a time when some Republicans are beginning to question where previous US aid has been spent. Rep. Thomas Massie (R-KY) tweeted in response to Zelensky that "It is not charity. Charity would be given freely. The American taxpayers have been conscripted in to making welfare payments to this foreign government." Rep. Matt Gaetz (R-FL) added that current US spending on Ukraine while America is in crisis, is the very definition of putting America last. Rep. Lauren Boebert (R-CO) echoed these sentiments, saying she wanted to see a full audit of funding so far.
Republican skepticism on US spending in Ukraine has been brewing for some months. In October, House Minority Leader Kevin McCarthy warned that if Republicans won control of the House at the midterm elections, there would be no more "blank check." The Republican Party subsequently won control of the House, meaning that from January, when the new House of Representatives is formed, there may be a mixture of attitudes to Ukraine on Capitol Hill. Senate Minority Leader Mitch McConnell has stated that he will continue to support Zelensky, signaling a potential rift in the Republican Party going forward.
The US has funded the war effort to the tune of around $60 billion, with $45 billion more included in the Omnibus spending plan.
In his remarks prior to the Zelensky speech, President Biden reiterated his support for the war and said America would not hesitate to fight for freedom and democracy around the world. "That's who we are as Americans," he said.
Copyright 2022, StraightNews.org