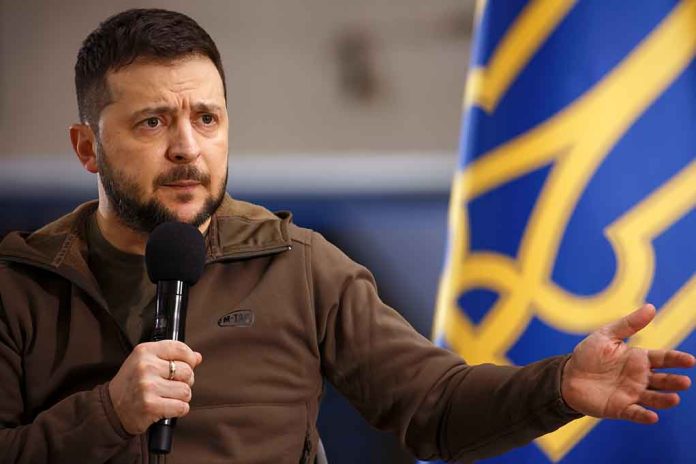 (StraightNews.org) — Ukrainian President Volodymyr Zelensky met with President Biden at the White House on December 22nd. Zelensky also addressed Congress and requested continued support for his country's war effort against Russia.
Ukraine is concerned about a Russian offensive through the winter months and is urging its allies to increase weapons shipments to the country. Ukrainian officials say that Russia is preparing 200,000 troops for a battle early in 2023. "I have no doubt they will have another go at Kyiv," head of Ukraine's armed forces General Valery Zaluzhny has said. Russia is likely to launch its offensive any time between January and next spring.
The United States has given billions of dollars in aid to Ukraine to boost its war coffers, and a further $45 billion has been allocated as part of the Omnibus spending bill passed in Congress on December 22.
A statement from the White House in anticipation of Zelensky's arrival said, "The visit will underscore the United States' steadfast commitment for as long as it takes, including through the provision of economic, humanitarian, and military assistance".
Meanwhile, Texas Public Policy Foundation Executive Director Robert Henneke expressed fears about the vast amounts being pledged to Ukraine and said lawmakers have legitimate concerns as to exactly where this money is going. He added that representatives in Washington are being denied the opportunity to really debate the continued funding of Ukraine and that Americans may begin to ask if this is the best use of taxpayers' money. The latest $45 billion allocation for the war effort has been included in the spending bill that is being rushed through Congress just prior to Christmas.
Zelensky's secretive visit is his first visit outside of Ukraine for the leader since the war with Russia began in February 2022.
Copyright 2022, StraightNews.org