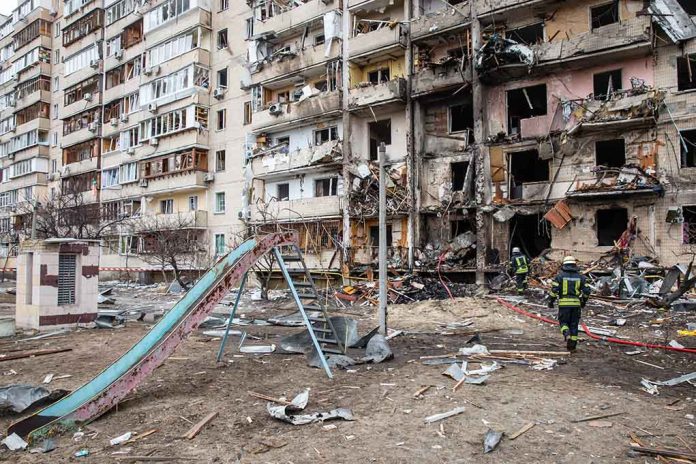 (StraightNews.org) – Ukrainian President Volodymyr Zelenskyy has given a multitude of moving speeches over the past few weeks since Russian President Vladimir Putin ordered his troops to enter Ukraine. His latest one addresses the brutality of Russian soldiers in his nation and asks their mothers if they understand just what their offspring are doing.
On Sunday, April 3, Zelenskyy shared an emotional speech with the world about Putin's horrific war crimes in Bucha, a city around 30 miles northwest of Kyiv. After Ukrainian forces pushed back the Russian military from the city, they found mass graves containing civilians, including women and children. They found evidence of horrific torture among the bodies strewn in the street.
Editor-at-Large for the New Voice of Ukraine, Euan MacDonald, shared a photo of Zelenskyy in Bucha:
Ukrainian President Volodymyr Zelensky visits Bucha, the scene of Russian army atrocities against Ukrainian civilians. His face says it all. pic.twitter.com/o2wZx3Tnqj

— Euan MacDonald (@Euan_MacDonald) April 4, 2022
Zelenskyy continued his speech by emphasizing how he wanted every mother of a Russian soldier to see the photos from the war zone. Then, the president asked if the moms were "unaware of what's inside your children." After seeing what they were capable of, he told mothers their sons have "no soul, no heart" as they "killed deliberately and with pleasure."
Zelenskyy certainly hopes Russians will see and hear his speech and demand that Putin end his war in Ukraine and bring their children home. However, he's also asking nations to condemn Putin and strengthen sanctions against Russia in light of these most recent atrocities.
Copyright 2022, StraightNews.org