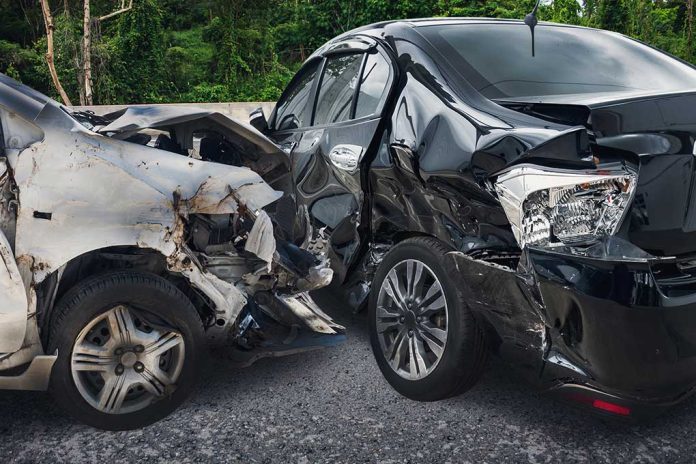 (StraightNews.org) – On Nov. 8, a suspected human smuggler transporting illegal immigrants crashed into an SUV on a Texas highway while attempting to evade police, killing eight people, including two Americans.
According to Texas Department of Public Safety spokesman Chris Olivarez, the suspect from Houston, who was driving a Honda Civic, was attempting to evade Zavala County Sheriff's Office deputies on Route 57 in Batesville when the crash occurred. The crash occurred after the Honda Civic driver, 21, passed a tractor trailer resulting in a head-on collision with a Chevy SUV. The collision caused the SUV to "burst into flames," killing Jose Lerma, 67 and Isabel Lerma, 65, from Dalton, Georgia.
In an online fundraiser, their son stated that his parents were traveling to Mexico and "sadly died instantly." Their son wrote that "no one expects" these types of events, and said the funds would be used for the couple's funeral expenses. In a Facebook post from an hour before the Nov. 8 crash, Isabel Lerma had wished someone a happy birthday.
According to Olivarez, the immigrants in the Honda Civic were from Honduras.
The case is under investigation by the Texas Department of Public Safety.
This is the latest police chase involving human smugglers near the southern border to result in fatalities as chases involving human smugglers continue to become more commonplace. In March, a 7-year-old girl, her grandmother, as well as two others were killed when a man transporting migrants attempted to get away from police. In February, two teenage smugglers led police on a high-speed chase before crashing their car on a Texas highway seriously injuring the illegal migrant they were carrying. In June 2022, four migrants involved in a smuggling attempt were killed in Encinal, Texas, after a police chase.
The crash marks the highest death toll for crashes involving migrants since March 2021 when 13 people were killed in a collision in Holtville, California.
Copyright 2023, StraightNews.org