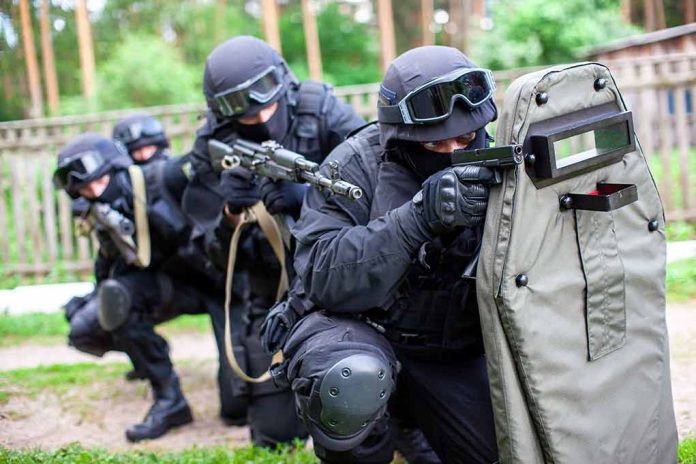 (StraightNews.org) – Authorities in Mexico have uncovered a cartel surveillance operation inside a hotel near the Texas border. The raid took place in the town of Nuevo Progreso after authorities tracked a vehicle that knocked down local surveillance cameras. Investigators followed the car to the hotel and discovered a sophisticated network of cameras, other surveillance devices, body armor, weapons, prescription drugs, and marijuana.
Thousands of Americans visit Nuevo Progreso every year, largely attracted by low-priced pharmacies, doctors' offices, as well as an array of bars and restaurants. A turf war between rival cartels has plagued the area, and gunmen regularly clash in surrounding rural regions.
It is not the first discovery of its kind. Back in 2015, police found a counter-surveillance network in the town of Reynosa, which included CCTV and security cameras aimed at police stations and army bases. The Gulf Cartel was suspected as the culprit behind the network and was accused of kidnapping and threatening technology experts to help them install complex communications and observation systems.
Law enforcement agencies in Mexico are involved in long-running wars with the country's powerful drug cartels but have made little impact. Thousands of people, including police officers, activists, politicians, and journalists, are murdered by vicious organized crime groups every year. Between 2006 and 2022, there were 360,000 homicides involving cartels in Mexico.
The groups, often referred to as transnational criminal organizations, dominate the trafficking and distribution of cocaine, fentanyl, heroin, marijuana, and methamphetamine in the U.S. The largest cartels are the Sinaloa group, led by Joaquín "El Chapo" Guzmán, and the Jalisco New Generation Cartel, which broke away from Sinaloa in 2010.
Los Zetas is another powerful group that U.S. officials have described as the most technologically advanced, sophisticated, and violent of its kind. A long-standing rival of Sinaloa, the Juárez Cartel controls most of the border with New Mexico and much street-level enforcement in the country's northern area.
Copyright 2023, StraightNews.org