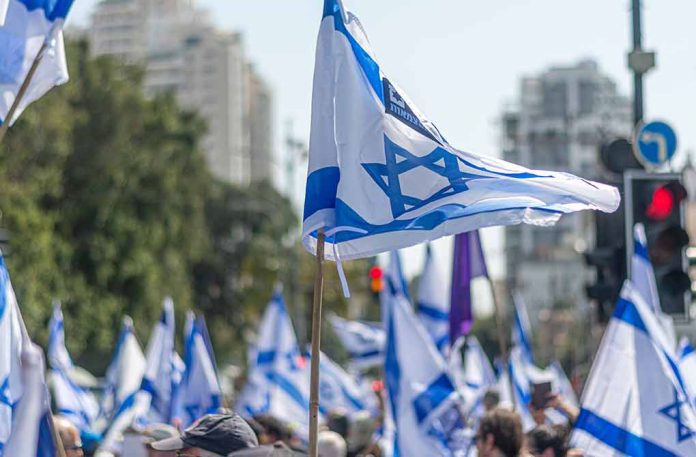 (StraightNews.org) – The President's son, Hunter Biden, joined a pro-Israel rally near Los Angeles on October 12, days after the Jewish state endured the bloodiest terror attack in the world since 9/11. Around 100 people attended the small demonstration in Malibu, with many waving Israeli flags and calling for the return of hostages taken by the Palestinian terror group Hamas during the assault on the Jewish state. Hunter Biden, whose wife is Jewish, joined a rabbi in prayer and rituals at the event.
Elsewhere in California, students took to the streets to express support for Hamas. During a demonstration in Los Angeles, UCLA students chanted "Intifada," – a word used by Palestinian terror groups to describe their "resistance" against Israeli "occupation." The rally occurred only days after 1,300 Israelis were murdered in horrific scenes in the country's south. Chants of "Allahu Akbar" were also heard as students called for the state of Israel to be brought to an end.
Similar scenes played out at the University of Washington, where Palestinian flags waved against a background of chanting of "Intifada Revolution," "No peace on stolen land," and "Resistance is justified."
Republican lawmakers, meanwhile, are moving to prevent the migration of Palestinians to the United States, fearing a deterioration in Jewish safety. Reps. Tom Tiffany (R-WI) and Andy Ogles (R-TN) introduced the Guaranteeing Aggressors Zero Admission Act (GAZA) to stop the Biden administration from issuing visas to Palestinians in the wake of the atrocity against Israel.
"Following the horrific attack by Iranian-backed Hamas terrorists on innocent Israeli civilians, the last thing America ought to do is trust identity documents issued by the radicals that oversee these territories," said Rep. Ogles.
Anti-Semitism is rising worldwide following the terror attack, with Europe witnessing protests calling for Jews to be "gassed." In the UK, Prime Minister Rishi Sunak visited a London synagogue to reassure British Jews that he would keep them safe as antisemitic incidents reach near-record levels.
Copyright 2023, StraightNews.org