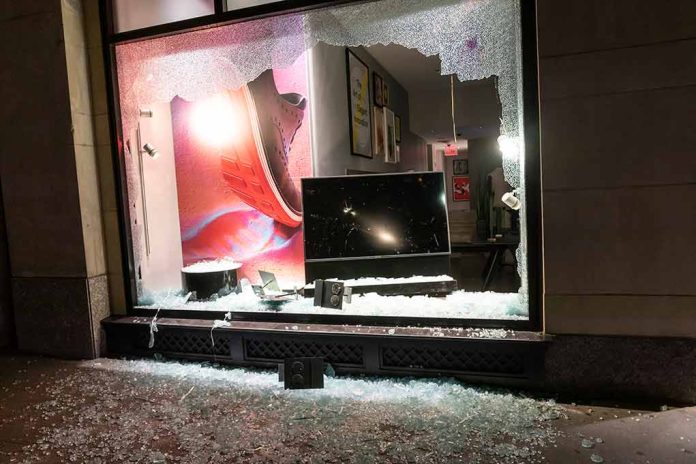 (StraightNews.org) – An Instagram influencer was arrested as she allegedly encouraged looting in downtown Philadelphia. Police detained Dayjia Blackwell mid-livestream as she shouted "free iPhones" to 189,000 followers on Instagram and almost half a million on TikTok. Officers said she led a "caravan of looters from store to store."
Blackwell is charged with six felony counts including burglary, conspiracy, riot, and criminal use of a communication facility. The following morning, she took to social media again to say she had never had such an experience. "I don't even know what happened. I need some sleep. I'm scared, I'm traumatized," she said.
The riots and looting broke out in Philadelphia following a protest at a Judge's ruling to drop all charges against police officers who shot and killed a local man during a traffic stop. Officer Mark Dial shot 27-year-old Eddie Irizarry on August 14, but in a hearing on September 26, Municipal Court Judge Wendy Pew dismissed all charges, citing a lack of evidence. Dial and his partner Michael Morris said they feared for their lives during the incident.
The Philadelphia District Attorney's Office issued a statement saying it "disagreed" with Pew's ruling and had refiled the charges against Dial. Protests broke out in the city, and police say that as soon as these dispersed, groups stayed behind and began looting and robbing downtown stores, including Apple, Foot Locker, Lululemon, and nearby liquor stores.
The looting incident is the latest in a series afflicting cities across America. In August, a mob of thieves ransacked a store in Los Angeles and got away with $300,000 worth of merchandise. The robbery of the Nordstrom department store took place in broad daylight with little apparent fear of arrest or punishment. LAPD said masked robbers plundered through the outlet smashing display cases and grabbing "high-end handbags, clothing, and other easily re-sellable items."
In early September, videos on TikTok showed shuttered stores in upmarket Beverly Hills; several had closed due to repeated robberies.
Copyright 2023, StraightNews.org