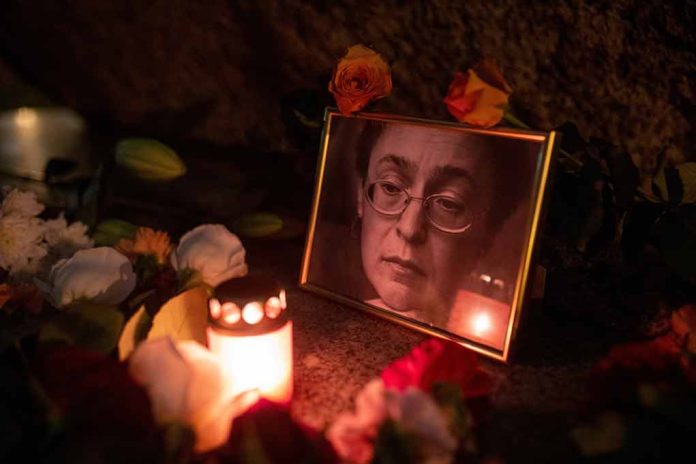 (StraightNews.org) – Russian President Vladimir Putin pardoned a convicted killer who took part in planning the murder of journalist Anna Politkovskaya in 2006. Sergei G. Khadzhikurbanov was a former police officer who was sentenced to 20 years behind bars in 2014 for his part in the murder. His lawyer, Aleksei Mikhalchik told reporters that his client was pardoned due to his military service in Ukraine.
Politkovskaya was shot and killed in the elevator in her apartment building. She was known for critical coverage of Russian human rights abuses in Chechnya during conflicts in the 1990s. At the time her murder highlighted the danger of reporting that was critical of the regime.
Activists in Russia indicated that the government began allowing many of its prisoners to earn pardons in exchange for military service. Russia has had a hard time meeting recruiting quotas and as such they've been relying on using prisoners to augment their ranks. Putin has thus far been able to avoid instituting a draft that would be politically very unpopular.
The Kremlin has released multiple criminals, including murderers and rapists to bolster their numbers. Kremlin spokesman Dmitri Peskov said they were "atoning with blood" which abrogated the need for further confinement in prison.
Russian rights activist Alyona Popova relayed the story of Vladislav Kanyus, a convicted murderer who was serving 17 years for the brutal killing of his then-girlfriend. Kanyus received a pardon in April for his service in Ukraine. Witnesses testified during his trial that Kanyus spent hours beating his girlfriend before ultimately strangling her to death. He's merely one example of dozens with similar backstories who received a pardon.
Politkovskaya's children and her former newspaper, Novaya Gazeta, published a statement condemning his pardon, suggesting it was a great injustice and desecrated her memory. The investigation into her murder was delayed numerous times, as was the trial. Four other men in addition to Khadzhikurbanov were also convicted of her killing, but it remains unclear who ordered the hit.
Copyright 2023, StraightNews.org