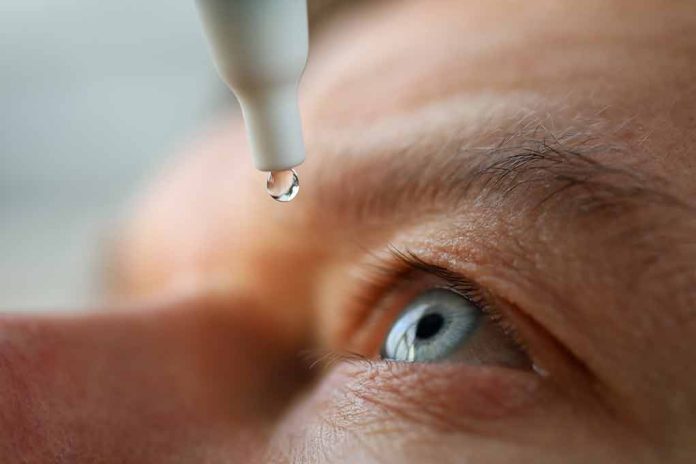 (StraightNews.org) – The Food and Drug Administration (FDA) is warning that eyedrops sold by six companies, including CVS Health, Target, Rite Aid, and Cardinal Health, could cause infections and even lead to blindness. FDA officials issued a statement urging consumers not to use the products after they found unsanitary conditions at the production plants. The agency did not disclose the location of the factory and it is not known if or when it was last inspected or by whom.
No injuries had been reported, but the FDA asked medical professionals and consumers to submit details of any incidents.
In April, the federal agency issued a similar warning regarding EzriCare Artificial Tears and Delsam Pharma's Artificial Tears, which were linked to an outbreak of drug-resistant infections throughout the US. Three deaths were attributed to the products, as well as 68 diagnoses of Pseudomonas aeruginosa across 16 states. Pseudomonas aeruginosa can cause severe infections in immunosuppressed patients, and the drug-resistant disease had never before been identified in the United States.
FDA officials linked those eye drops to the Global Pharma manufacturing plant in India. Agents visited the site where they found several hygiene violations. A subsequent report stated that door handles were unsanitary, and surfaces were "not cleaned, sanitized, decontaminated, or sterilized."
Some stores named in the latest recall responded to the FDA warning, saying they had stopped selling the product. RiteAid issued a statement saying, "Due to safety concerns identified by the FDA, we are removing the applicable Rite Aid branded products from our store shelves." CVS and Target confirmed they had also removed the eye drops from their stores and website.
Consumers are urged to seek medical attention if they have used the products, particularly if they develop symptoms of blurriness, light sensitivity, or "crust" around their eyes. Doctors say most eye infections are treatable with antibiotics, but these should be administered as early as possible. If left untreated, conditions can cause blindness or death.
Copyright 2023, StraightNews.org