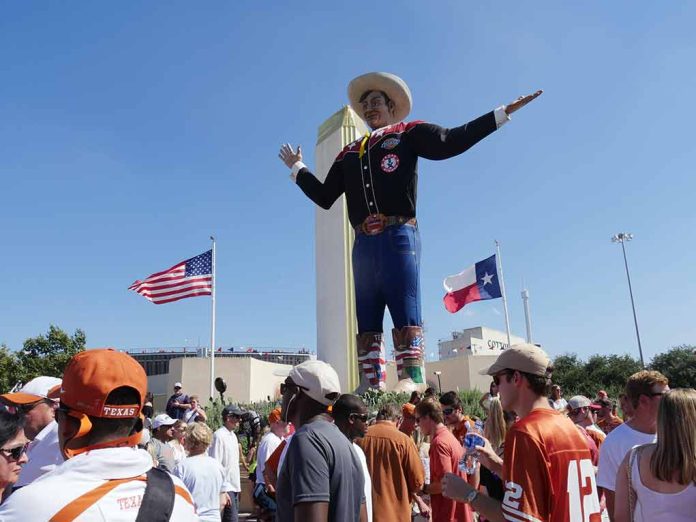 (StraightNews.org) – Police in Dallas have identified a suspect in a state fair shooting that left three people injured on October 14. Cameron Turner was arrested soon after fleeing the event, which was evacuated following the incident. The injured victims are expected to make a full recovery and the 22-year-old suspect was charged with aggravated assault.
The incident ensued near the fair's food court on Saturday evening and some witnesses said it started as an argument between two friends. One person reported hearing four shots, then a time gap, and another shot. It isn't clear how Mr. Turner was able to bring the gun inside the fair's grounds, as they are prohibited in most instances.
Karissa Condoianis, senior vice president of public relations for the State Fair of Texas, said guns are banned, but added, "We understand that Texans have the right to carry their weapons. So, we have a middle ground where those that have a license to carry are allowed to come in." The fair has a weapons-detection system at its entrance but has also beefed up its security measures in response to the incident.
Some visitors posted clips and images on Twitter, with one poster describing it at the scariest moment of her life. Video footage shows panicked people running toward exits trying to escape. Witness Awbrey Steele described hearing screaming as she and her friends were about to board the Ferris wheel. She said she did not hear shots and officials did not inform people what was happening. "There were many police that were heavily armed at the exits and police throughout being very stern, ushering everyone to go home," she added.
Dallas Mayor Eric L. Johnson said the city would "not tolerate this behavior" and reassured Texans that Dallas PD would work with the State Fair organizers to ensure that the event could resume quickly and safely. The State Fair said while it would make security improvements, it would not change its firearms policy.
Copyright 2023, StraightNews.org