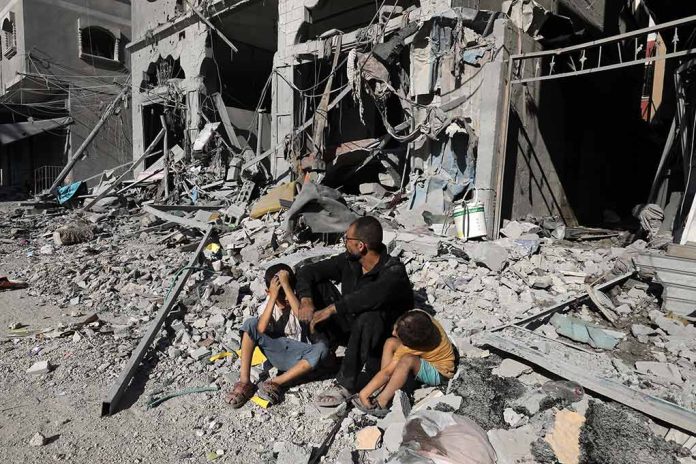 (StraightNews.org) – The following story comes from May 2021 and demonstrates that the recent violence is merely an uptick in the ongoing conflict.
A nonprofit organization that renders medical assistance to Palestinians in Gaza was destroyed in an Israeli strike targeting Hamas assets in the neighborhood. Palestinian Children's Relief Fund (PCRF) said that their mission would continue even if their office building in Gaza was destroyed.
PCRF has helped numerous children get needed medical attention, including Weam Elastal who lost a leg in an Israeli attack on Gaza which brought the ceiling down in their apartment building in 2014. She was 9 at the time and faced tremendous difficulty adapting to the loss of her leg.
When PCRF heard her story, they were able to get treatment in Jeddah, Saudi Arabia where they outfitted the young girl with a prosthetic leg. When she outgrew it, they arranged to have her sent to Atlanta, Georgia where she stayed with an American host family while getting fitted and physical therapy for a new prosthesis.
PCRF relayed her story in a two-minute YouTube video. The new limb allowed her to move around with a wheelchair or other assistance. She tells of being able to run and jump with ease, making her feel somewhat normal.
The organization has helped almost 86,000 children from the occupied territories by making medical care available to them at no cost. They've been engaged in the mission since 1992 and they offer a pallet of services including prosthetics, surgeries, cancer treatment, and mental/physical therapy.
They've also sent teams of volunteer medical experts into Gaza and the West Bank to render pediatric care to children in need.
PCRF founder and president Steve Sosebee told CNN that the attack on their office will make it harder to render aid to people in need.
The strikes were part of a bombing campaign that took place from May 10th to 20th, 2021. The Gaza Health Ministry said that 248 people were killed, including 66 children. A ceasefire was agreed to on May 21st, of that year. While the fighting has renewed in recent weeks, it's important to understand that this conflict has been ongoing for decades.
Copyright 2023, StraightNews.org