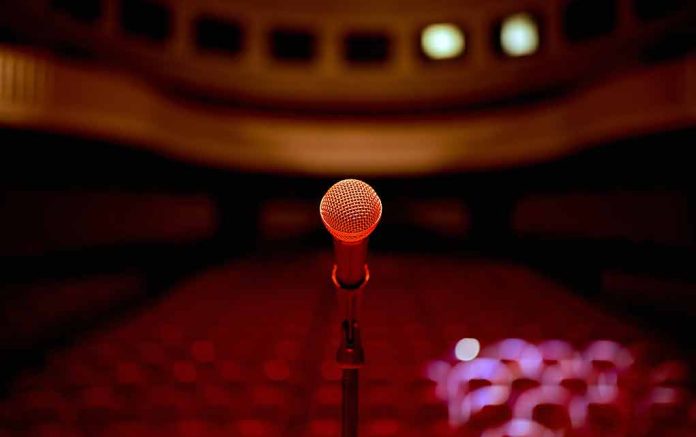 (StraightNews.org) – People walked out of Dave Chapelle's show in Boston when he attacked Israel and appeared to sympathize with the terrorist organization Hamas. The controversial comedian initially condemned the attack on Israeli civilians on October 7, but at the TD Garden arena in Boston, he said the United States was assisting the slaughter of innocent people through its support of the Jewish state.
An audience member told Mr. Chapelle to "shut up," but this made the comedian determined to expand his condemnation of Israel, which he said was guilty of war crimes for cutting off access to food and water in the Gaza Strip. Some audience members cheered "Free Palestine," while others questioned Chapelle on the crimes of Hamas.
Chapelle joins several celebrities who have declared their view on the divisive situation in the Middle East. For example, top Hollywood agent Maha Dakhil, whose client list includes Tom Cruise and Reese Witherspoon, quit her senior role at the Creative Artists Agency after she accused Israel of committing genocide. She later recanted and said, "I'm so grateful to Jewish friends and colleagues who pointed out the implications and further educated me."
Comedienne Amy Schumer has spoken out in support of Israel and recounted growing up Jewish and learning about the Holocaust and the "confusing" hatred often directed at Jews.
Meanwhile, a group of celebrities has written to President Biden urging him to encourage a ceasefire in the region. The letter called for an end to Israel's airstrikes on the Gaza Strip and the release of all hostages. Barbie star America Ferrera signed the letter and spoke at the London Women of the Year Awards, saying, "Our sisters and their families in Gaza and Israel are living through horror."
Other stars, including Michael Douglas, Jamie Lee Curtis, and Jerry Seinfeld, signed an open letter offering support to the Jewish state. "We in the Hollywood community and around the world must stand with Israel as it defends itself," the letter states.
Copyright 2023, StraightNews.org