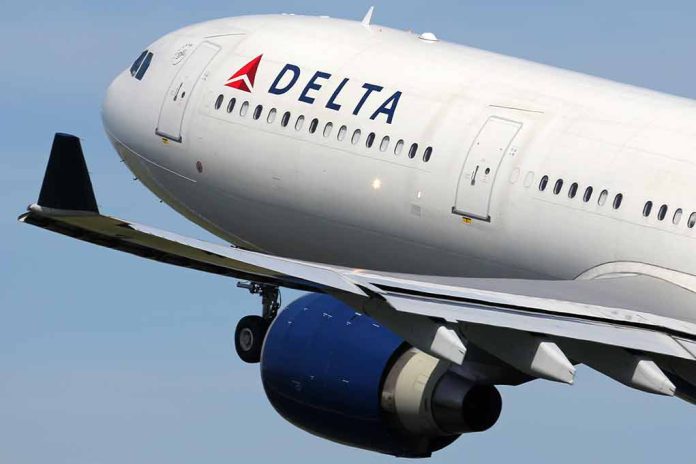 (StraightNews.org) – A former Delta Airlines pilot from California was indicted in October for interfering with a commercial flight and threatening its captain. The October 18 indictment charged Jonathan J. Dunn with offenses related to an incident on an unnamed flight in August 2022.
Dunn was the crew's first officer, and following an argument with the captain over diverting the flight to aid a sick passenger, Dunn allegedly told his colleague he would shoot him if he altered the plane's route. He was authorized to carry a weapon on board as part of the Transportation Security Administration's Federal Flight Deck Officer program that permits pilots to carry guns to defend the cockpit in the event of a terrorist attack.
The Department of Transport Office of Inspector General, the FBI, and the Federal Aviation Administration are leading the continuing investigation. If convicted, Dunn faces a 20-year prison term. Delta Airlines has confirmed he is no longer employed with them.
The news comes only weeks after a separate incident involving a commercial pilot who tried to shut off an aircraft's engines mid-flight, blaming so-called magic mushrooms for making him paranoid. Alaska Airlines pilot Joseph Emerson was off duty at the time of the incident but was sitting in the cockpit. At one point during the flight, he lunged at the plane's emergency fire suppression system, which automatically shuts off the engines, and had to be wrestled away by staff.
Authorities charged Emerson with 83 counts of attempted murder, and he told officers, "I'm admitting to what I did. I'm not fighting any charges you want to bring against me, guys." Nevertheless, he pleaded not guilty in a Portland, Oregon, court in October.
The former pilot confessed to taking "magic mushrooms" 48 hours before the flight, which he said made him believe "the pilots weren't paying attention to what was going on." He said he thought he was having a nightmare and wanted to leave the aircraft.
Copyright 2023, StraightNews.org