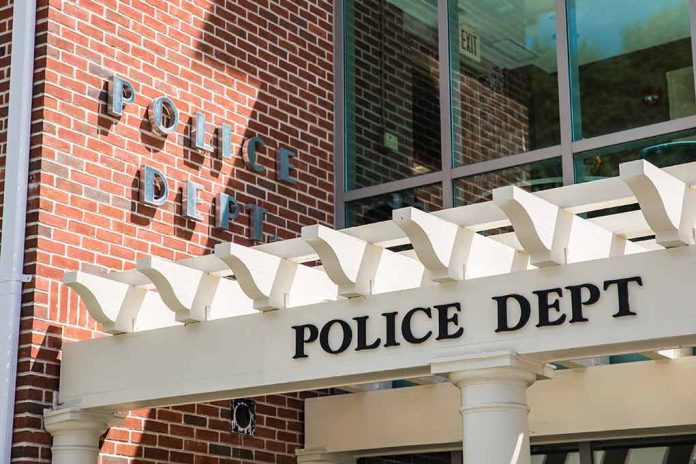 (StraightNews.org) – A woman in Connecticut turned up at her former employer's office with a handgun and opened fire. Suzanne Laprise entered the Bristol Police Department on Oct. 5 and knocked on the glass barrier with a gun before shooting at the glass and ceiling. Officer Spencer Boisvert fired at Laprise with two shots before she put the gun down and was detained. She was subsequently sent to Bristol Hospital for assessment but released the next day.
Prosecutors charged the 51-year-old with multiple offenses, including attempted murder, illegal discharge of a firearm, unlawful carry of guns under the influence, criminal use of a weapon, violation of pistol permit requirements, illegal possession of large capacity magazine, criminal mischief, and reckless endangerment. She was detained in custody on a $3 million bond.
The motive for the incident is unknown, but officials say Ms. Laprise worked at the Department of Developmental Services, helping disabled people, for 12 years. A spokesperson for Bristol Police said the weapon she used belonged to her boyfriend, a retired New York City cop. Connecticut Inspector General Robert Devlin told reporters Laprise may have wanted to kill herself or commit "suicide via cop," as she had put the gun to her head and later begged police officers to shoot her.
No one was hurt in the incident, as all shots fired were stopped by the bulletproof glass in the station.
Employees returning to previous jobs in an angry state is not uncommon, and some instances can be fatal. One of the deadliest recent incidents occurred in Missouri in April, when Connor Sturgeon, a 23-year-old former staff member at the Old National Bank in Louisville, returned to his former office and shot 13 people, including two responding law enforcement officers. Sturgeon had no priors and had completed a successful internship at the bank. Five people died in the horrifying attack, and police also killed the shooter. He had filmed the incident and broadcast it live on the Internet.
Copyright 2023, StraightNews.org