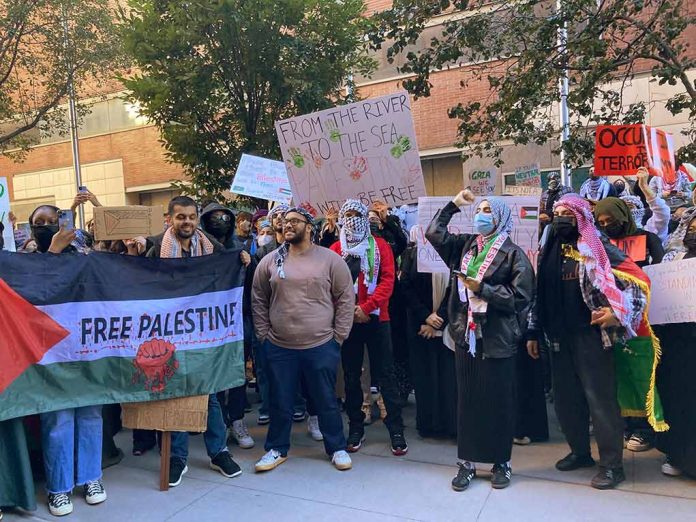 (StraightNews.org) – On Nov. 6, a military ship believed to be heading to Israel left the Port of Tacoma, Washington, after protesters blocked the entrance to the port for 12 hours, preventing longshoremen from loading cargo onto the ship.
About 200 people blocked the entrance to the port where the MV Cape Orlando was docked. Part of the National Defense Reserve Fleet, the 635-foot U.S. military supply vessel was used during both the Iraq as well as Afghanistan wars.
The protesters shut down the roads and gates by using cars to block the entrance to the port. Some of the protesters waved Palestinian flags while others held signs that said, "Ceasefire now," "No Aid for Israel" as well as "Resist Until Return."
A member of the group Samidoun Seattle, Bissan Barghouti, stated that the protesters were there to block the military ship which came from the "Oakland dock up to Tacoma." Around 300 protesters in Oakland, California prevented the ship from being loaded there after some protesters chained themselves to a ladder. The ship was then moved up to Tacoma. Protesters believed the ship would be heading to Israel with military equipment and weapons. However, Barghouti stated that the protesters were not sure where the military equipment and weapons were located.
A spokesperson for the Department of Defense Air Force Lt. Col. Bryon J. McGarry stated that the ship is supporting the movement of military cargo and that it is controlled by the U.S. Navy's Military Sealift Command. The ship was able to leave port late Nov. 6, with operations at the port returning to normal by Nov. 7.
The protest comes as reports from the Gaza's Health Ministry, which is run by Hamas, stated that over 10,000 Palestinians have been killed since the war began Oct. 7. Over 1,400 people were killed by Hamas in Israel on Oct. 7, prompting Israel to launch airstrikes on Gaza in an attempt to eliminate Hamas.
Copyright 2023, StraightNews.org