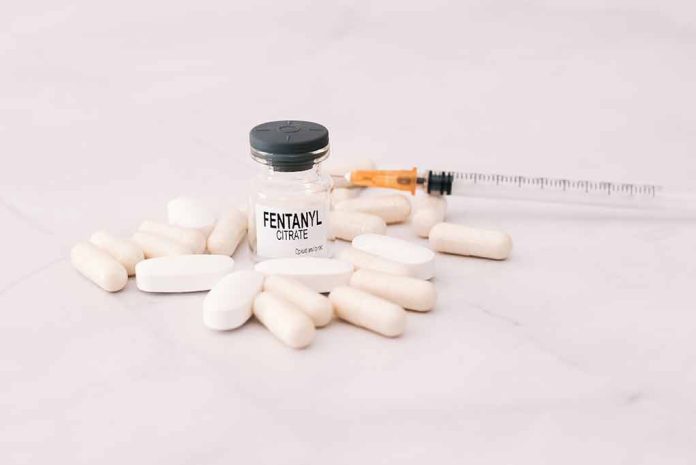 (StraightNews.org) – House Foreign Affairs Committee Chairman Michael McCaul has called on Democrats and Republicans to work together to confront the Fentanyl crisis that has impacted his family and is devastating lives across the US. Statistics show that almost 110,000 Americans died from drug overdoses last year, with most of these connected to Fentanyl. "My oldest daughter has been to four funerals, all from high school friends," McCaul said.
The Drug Enforcement Administration (DEA) announced in September that it has seized 55 million Fentanyl pills since January, exceeding last year's total haul. In 2022, officials confiscated enough of the lethal drug to kill every man, woman, and child in the United States.
The DEA describes Fentanyl as a highly addictive substance, 50 times more potent than heroin, and the nation's biggest single drug threat. The problem is exacerbated by the addition of Fentanyl to less harmful drugs, including cannabis.
Mr. McCaul will likely face an uphill battle in his bid to bring the two parties together however, as the GOP sees the government's failure to tackle the crisis as a useful political attack, and any successes in the fight against the drug could be presented to the public as a victory for the Biden administration. McCaul is undeterred however and continues to push the issue and emphasize its urgency.
Fellow Texan Rep. Dan Crenshaw agrees with McCaul and has urged Congress to take radical action against the drug cartels moving Fentanyl into the United States. In January, he proposed using the US military to confront the smuggling rings penetrating the southern border – a view shared by Republican Presidential candidate Ron DeSantis.
Governor DeSantis promised to use deadly force against drug smugglers if elected to the White House next year, and in 2022, he increased sentences for trafficking in the Sunshine State. "Someone dealing Fentanyl is murdering people," he said.
Fentanyl is a synthetic opioid that mimics heroin and is produced in South America using chemicals imported from China.
Copyright 2023, StraightNews.org