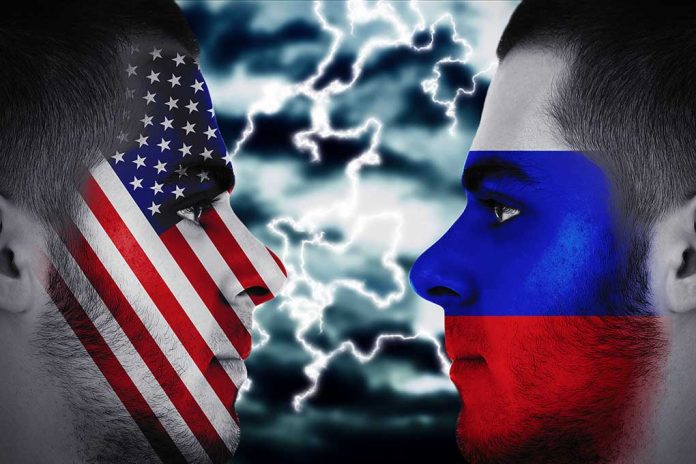 (StraightNews.org) – Russian Deputy Foreign Minister Sergey Ryabov has warned Russian citizens who are thinking about traveling to the United States to reconsider, warning that American authorities have increased arrests on Russian nationals under the guise of trade violations.
Ryabov has called travel to the U.S. "ill-advised," saying the American government is "increasingly engaging in provocations" against Russian citizens. He warned anyone who does travel to remain on alert, stay in contact with Russian embassies, and to anticipate "hostile actions" from authorities in America.
The U.S. State Department has also urged Americans to avoid travel to Russia, and if they are currently in the country, to "leave immediately" or else the face the risk of being "wrongfully detained." Journalist Evan Gershkovich of the Wall Street Journal was recently detained on espionage charges in the former Soviet nation. An anonymous government official told the WSJ that Washington is trying to think of "creative solutions" to bring Gershkovich home, as they do not have any suitable candidates for a prisoner trade with Russia.
White House Press Secretary Karine Jean-Pierre has said the Russian government is targeting American citizens, calling it "unacceptable." She further condemned the repression of journalists by Russian government, urging Americans to listen to the warnings from the government to avoid travel there.
Anatoly Antonov, Russian Ambassador to the U.S., revealed that the U.S. is holding "more than 100" Russian citizens in American prisons. He claims that most of the charges faced by Russian nationals are "politically motivated."
While neither the United States nor Russian has completely banned travel between the two nations, the number of people traveling between the two countries has decreased significantly since the Russian invasion of Ukraine began in the beginning of 2022.
There have been two high-profile prisoner exchanges between Russia and the United States within the last year. Former Marine pilot Trevor Reed was exchanged for Konstantin Yaroshenko, a pilot. Brittney Griner, a professional basketball player, was exchanged for Viktor Bout, a Russian arms dealer.
Copyright 2023, StraightNews.org