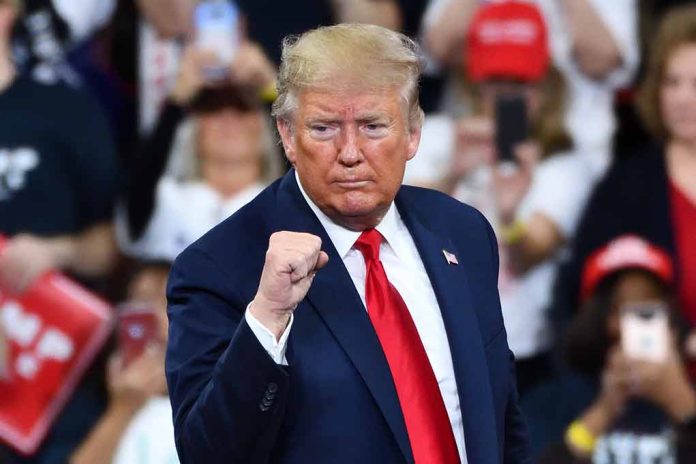 (StraightNews.org) – Donald Trump has raised over $45 million in the past three months as his legal problems continue escalating. In the third fundraising quarter of 2023, the former president amassed $45.5 million to add to the $37 million already in his campaign coffers. Records show Trump's funding far exceeds that of his closest rival, Ron DeSantis, whose support is steadily dropping.
A statement from the Trump campaign said the numbers are "even more impressive considering the summer months are usually when most campaigns experience lagging fundraising support."
In comparison, Florida Governor DeSantis has raised $15 million over the same fundraising period, and with $5 million in the bank, he heads into the crucial Iowa contest with $20 million. His spokesperson, James Uthmeier, said, "This significant fundraising haul not only provides us with the resources we need in the fight for Iowa and beyond, but it also shuts down the doubters."
DeSantis is shifting focus to Iowa and has reportedly moved his key staff to the Hawkeye State. His team will live in temporary housing and prepare the ground for the critical January 15 caucuses. The Floridian hopes to make a splash in all 99 Iowa counties and believes that a win in the state would set up a Trump vs. DeSantis two-man competition.
Following the second GOP primary debate in Los Angeles recently, figures show that Trump's lead is extending, and DeSantis has a steeper mountain to climb. A survey by The Economist for September 30 to October 3 shows Trump on 58%, with DeSantis far behind on just 13%. Nikki Haley has overtaken Vivek Ramaswamy and is at 7%, while Ramaswamy has dropped to 4%. Quinnipiac University polling for September 28 to October 2 has Trump at 61%, DeSantis at 14%, and Haley in third place at 8%.
The contest between Trump and Biden remains too close to call, but increasingly, President Trump is edging ahead. Quinnipiac results place Trump at 47%, with Biden behind on 45%.
Copyright 2023, StraightNews.org